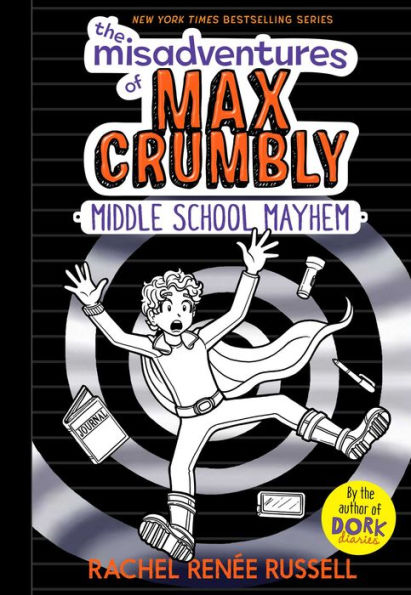 Buy This Book
Buy This Series
---
---
"If I can prevent what happened to ME from happening to YOU or another kid, then every second Erin and I spend suffering in that disgusting dumpster dungeon will be worth it. Because if WE can become heroes and make the world a better place. . . YOU CAN TOO!!" Max Crumbly. –Middle School Mayhem
 Middle School Mayhem
The Misadventures of Max Crumbly #2
by Rachel Renée Russell
AR Test, Graphic Novel
At A Glance
Interest Level

9+
Entertainment
Score
Reading Level
4.5
After being trapped in a locker for hours, Max Crumbly has discovered three burglars are planning to steal all the school's new computers and his father's vintage comic book. Max vows to stop them and get his book back. But after crashing through a ventilation shaft and landing on the burglar's pizza, he is surrounded by three ruthless criminals. There is no hope in sight as Max is now trapped between the three burglars who are ready to tear him apart and three ruthless criminals. All of a sudden, Erin, his only friend at South Ridge Middle School, comes to the rescue. She shuts off all the lights giving Max valuable time to escape.
Trapped in the school, Max and Erin must get Max's comic book back and trap the three burglars – Moose, Tucker, and Ralph – before the police arrive. After Max confines Moose in the cafeteria and Tucker in the gymnasium, it seems like Max might actually accomplish the impossible and outwit the thieves. But Ralph, the ringleader of the burglars, poses a much harder challenge for Max than his two cronies. Will Max be able to catch Ralph and save his dad's comic book, or will he be caught by the most malicious criminal of them all?
Russell creates a character who is flawed just like any other boy his age but manages to work through his problems. Up against an impossible task, Max strives through self-doubt to outsmart and outwit the criminals to save the school's new computer center. Throughout the book, Max grows as a person and he now considers the consequences of his actions. He also feels bad after he accidentally gets Erin grounded because she was helping him snoop around the school. Young readers can see Max as a role model. They can be inspired to work hard when all hope seems lost and help others whenever possible.
While parents might find the book repetitive and full of too much bathroom humor and slapstick comedy, younger readers will enjoy the story's amusing mayhem. Many of the jokes come from Max either making a fool of himself or hurting the criminals in some way, like trapping Ralph in a room with a snake and setting his hair on fire. However, the large font, black-and-white illustrations, and consistently funny jokes will help young, reluctant readers transfer their reading skills from picture books into full-fledged novels. Readers should read the first book in the series in order to understand this one. This book also ends with another cliffhanger, so make sure you have the next book in the series The Misadventures of Max Crumbly: Masters of Mischief.
Sexual Content
Violence
Ralph grabbed onto Max's cape in the ventilation shaft. Max rolled over onto his back, brought both of his knees to his chest, and then kicked with all his might. "The chunky soles of my lost-and-found motorcycle boots landed squarely on Ralph's very sweaty and very surprised FACE!!"
Moose chases Max and grabs him by his collar. Moose accidentally "butt-dialed the burner on the stove and set himself on fire." While on fire, Max dumps a bucket of slime on Moose, wraps him in plastic wrap, and ties him to a pole.
Max knocks Turner out in the gym and ties him up in a soccer net.
Max shoots a rocket at Ralph. It misses but lights Ralph's toupee on fire. "As Ralph slowly walked toward me, I noticed the strangest thing. The top of his head was smoking."
Drugs and Alcohol
Language
Max knew middle school was going to be challenging, but he never "expected to end up DEAD in the computer lab, wearing a SUPERHERO COSTUME, with four slices of PIZZA stuck to my BUTT!"
The students at Max's school nicknamed him "Barf" after he threw up on his bullies' shoes.
After Moose and Tucker complain they are hungry, Ralph shouts, "How about I rip out your spleens and shove 'em down your throats?! Then you won't be hungry anymore, you MORONS!"
When grabbing Max, Ralph snarls, "Hold still, you little RAT!"
When Ralph gets stuck in a ventilation shaft, Moose and Tucker try to pull him out. Ralph's saggy pants fall off and he is pictured in his underwear.
Max said that releasing his pet turtles into the wild when he was younger was "the STUPIDEST thing I've ever done in my life!!"
Supernatural
Spiritual Content
by Matthew Perkey
---
"If I can prevent what happened to ME from happening to YOU or another kid, then every second Erin and I spend suffering in that disgusting dumpster dungeon will be worth it. Because if WE can become heroes and make the world a better place. . . YOU CAN TOO!!" Max Crumbly. –Middle School Mayhem