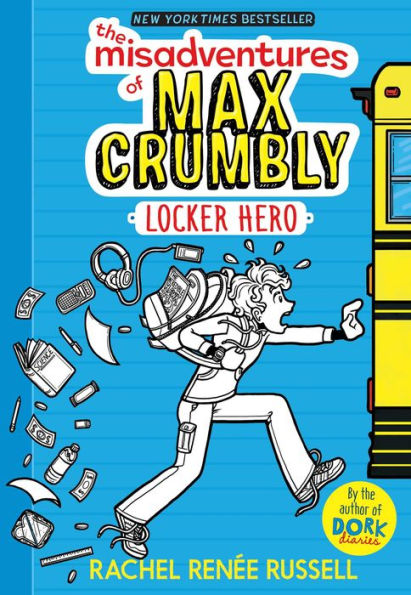 Buy This Book
Buy This Series
---
---
"If I had SUPERPOWERS, life in middle school wouldn't be quiet so CRUDDY," Max Crumbly. –Locker Hero
Locker Hero
The Misadventures of Max Crumbly #1
by Rachel Renée Russell
AR Test, Graphic Novel
At A Glance
Interest Level

9+
Entertainment
Score
Reading Level
4.6
Max Crumbly is like any other teenage boy. He likes comic books and video games, and his uncanny ability to smell pizza from a block away has helped him out in some really sticky situations. However, after being homeschooled by his grandmother for years, Max is about to face the scariest thing ever: South Ridge Middle School. Awkward and alone, Max tries to make friends with the other students, but within days becomes the favorite target of the school bully, Doug "Thug" Thurston.
Despite Thug's repeated attempts to throw him in his locker every day, Max succeeds in his attempt to make friends. He meets Brandon, his best friend in the world, at a pet store and they work at the local shelter together on weekends. Max also develops a crush on one of the most popular and smartest girls at his school, Erin. All the boys love Erin, especially Thug. When Erin meets Max, she is really nice to him and develops a small crush on him. Erin invites Max to help paint the backgrounds for the school play with her. But, after Erin tells Max that the play is canceled, they eventually stop speaking to each other, much to the dismay of Max.
But, all that drama is trivial after Thug traps Max in his locker on a Friday afternoon before a three-day weekend. Alone and with no way to call home, Max must find his way out of the school before he dies of starvation or boredom (whichever comes first). While in the locker, Max uncovers three criminals' plots to rob the school of its brand new computer center. After the phone lines are cut, Max must find a way to singlehandedly stop the thieves and save the school. Will Max become the superhero he always wanted to be or will the thieves catch up to him?
Russell created a flawed character, who struggles with fitting in at his new school and being 'hip' and 'cool' around the other students. Throughout the book, Max grows as a person and rises above his middle school problems to think of others, like valuing saving the school's computers above going home and taking a nap. At the end of the story, Max may inspire readers to put other people's problems above their own.
Max Crumbly: Locker Hero is the companion series to Dork Diaries, but focuses on a male protagonist. Parents should be concerned about the book's level of bathroom humor. Many of the jokes come from Max either unintentionally puking or peeing on other students, or just making a fool of himself. However, the black-and-white illustrations along with consistently funny jokes will help reluctant readers transfer their reading skills from picture books into full-fledged novels. Readers who are struggling with a new school or the transfer to middle school will enjoy this fun, easy-to-read story.
Similar to the movie Home Alone, the antics in Max Crumbly: Locker Hero's are hard to believe, and the over-the-top action comes to an abrupt end. None of the story conflicts are resolved, which may upset some readers. Instead of wrapping up the story, Russell leaves off on a cliffhanger. Readers will want to jump into the next book in the series The Misadventures of Max Crumbly – Middle School Mayhem.
Sexual Content
Violence
After Thug finds out that Max isn't Dark Vader's son, he threatens to "beat my face into a pulp."
One of Max's favorite comic book superheroes, Electrostatic Man, "actually ZAPPED his OWN MOTHER with 10,000 watts," killing her.
Ralph swears that once he gets his hands on Max, he's "GONNA RIP HIS FACE OFF."
Drugs and Alcohol
Language
Max believes that if he had superpowers, life in middle school would be better. He would never "miss the stupid bus again" because he could just fly to school.
In one of the images where Max draws himself flying, he gets pooped on by a bird. Max thinks, "Getting bombed by an angry bird is NOT cool."
Max is calling his book THE MISADVENTURES OF MAX CRUMBLY and it will be "a highly detailed record of all

the CRAP I've had to deal with!

my experiences here at this school."
Max has a socially anxious bladder and he pees when he gets nervous or scared. In one of his drawings, he imagines peeing on Thug.
One day in gym class, Max vomited on Thug's shoe.
Max "had exactly forty-eight seconds to get my BUTT on the bus" before his big fight with Thug.
Max would have loved the janitor's pretend rock and roll show "a lot better if I hadn't been watching it from, you know …. INSIDE OF MY STUPID LOCKER!!"
Supernatural
Spiritual Content
by Matthew Perkey
---
"If I had SUPERPOWERS, life in middle school wouldn't be quiet so CRUDDY," Max Crumbly. –Locker Hero