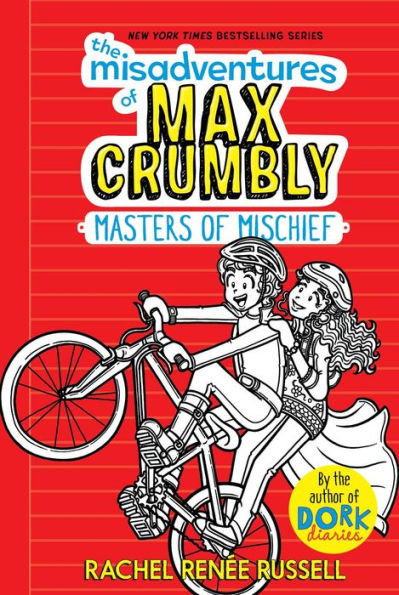 Buy This Book
Buy This Series
---
---
"When we last left our courageous hero and his
CRUSH

trusty sidekick, they were sitting in a pile of rotting mystery meat, smelly gym socks, a vomit-stained mattress from the cot in the school nurse's office, and other frightfully foul things, hopelessly TRAPPED within four inescapable brick walls as police officers raced to the scene," Max Crumbly. –Master of Mischief  
 Masters of Mischief
The Misadventures of Max Crumbly #3
by Rachel Renée Russell
AR Test, Graphic Novel
At A Glance
Interest Level

9+
Entertainment
Score
Reading Level
4.5
After successfully trapping Ralph and his two cronies in South Ridge Middle School, Max's crazy night seems almost over as police sirens approach. There is just one last thing to do – go home! While evading the police and possible suspensions, Max and Erin dive into the back of a pickup truck just as it is about to take off. What they don't know is that the pickup truck is driven by the thieves – Ralph, Tucker, and Moose – who all escaped from Max's traps and the police!
Successfully ditching the pickup truck when it stops for fast food, Erin and Max head home for some well-needed rest. Throughout the weekend and at school on Monday, Max must dodge police, his parents, his nosy neighbors, and a brutal bully to avoid any possible suspicion for his involvement with Friday's robbery. If Max is caught, he risks detention and probably homeschooling by his grandmother for the rest of his life. However, Max and Erin discover the thieves' new plan – to pose as security guards to steal the new, expensive school computers when no one is looking. Can Max and Erin avoid detection and detention while stopping the malicious thieves?
Masters of Mayhem is a fun, suspenseful read for young readers. Throughout her three books, Russel has created a character who is troubled just like any other boy his age but manages to strive through his problems and think of others. Max does not flaunt or boast about how he stopped Ralph and his gang and saved the school but instead keeps it to himself. He considers the consequences of his actions and worries about involving Erin and tarnishing her perfect school record. Max cares about other people more than he cares about himself. He even swears to put a stop to the thieves again, risking his own life to protect his new school. He is a role model for young teenagers.
Unlike other books in the series, Russel does not depend on bathroom humor or inappropriate behavior for her jokes. Instead, she puts Max in hysterical and wacky scenarios to entertain her readers. In addition, the book's cartoonish, manga-like black-and-white illustrations will help readers transfer their reading skills from picture books into full-fledged novels, making this story great for young, reluctant readers.
The Misadventures of Max Crumbly is a series that should be read in order. Like every book in the series, Masters of Mischief ends with a suspenseful cliffhanger, so make sure you have the next book in the series ready for your reader.
Sexual Content
Violence
Drugs and Alcohol
Language
After Max and Erin fall into the school dumpster, Max worries that unless he and Erin "can figure out how to get out of this stupid dumpster," they might never roam free again.
Erin doesn't want her ice princess costume to get damaged. Max says, "Erin only cared about her STUPID ice princess costume."
When Max and Erin hide in the back of a truck, Max worries that "those Neanderthals would see us through that big window in the back of the truck and try to run over us or something."
Max says that if "Erin could sneak out of her house to rescue me, then I could at least sneak INTO my house to save my butt."
Max screams when he sees his sister in an oatmeal face mask. Max's sister tells him, "Shut up, you birdbrain!"
After the police visit their house, Max's sister comes downstairs and asks if the police were there. Max says his sister is hearing things and she responds with, "Actually, the voices TOLD me to give YOU some mouthwash, BUTT BREATH!"
Thug Thurston, Max's bully, asks Max, "Did you have a nice weekend, BARF?!"
Erin fumes and says they "can't just let these JERKS get away with this!"
Supernatural
Spiritual Content
by Matthew Perkey
---
"When we last left our courageous hero and his
CRUSH

trusty sidekick, they were sitting in a pile of rotting mystery meat, smelly gym socks, a vomit-stained mattress from the cot in the school nurse's office, and other frightfully foul things, hopelessly TRAPPED within four inescapable brick walls as police officers raced to the scene," Max Crumbly. –Master of Mischief