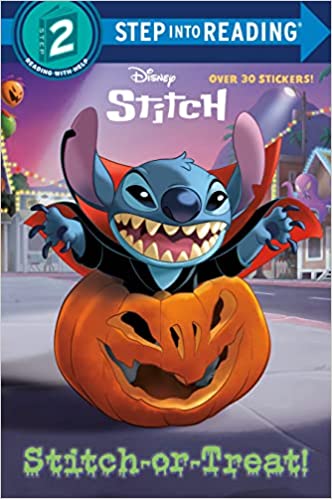 Buy This Book
---
Stitch-or-Treat!
Step into Reading 2
by Eric Geron
At A Glance
Interest Level

4-6
Entertainment
Score
Reading Level
1.2
It is Stitch's first Halloween on Earth! Lilo has prepared a list to ensure that the day is perfect. First, they need to find the right costume for Stitch. After several tries, Stitch finally decides on a vampire costume. Next, Lilo shows Stitch how to carve a pumpkin. Impatient, Stitch carves his pumpkin with his laser blaster. Finally, it's time for trick-or-treating. Unlike Lilo, Stitch prefers tricks over treats. To Lilo's chagrin, Stitch scares every person they meet. Stitch delights in this, but all these scares mean no candy for him or Lilo. Disappointed, Lilo walks away, believing that her perfect Halloween has been ruined. However, her spirits are lifted when Stitch catches up to her, boasting a mountain of candy! 
Lilo is thrilled. Her Halloween may turn out to be perfect after all! However, her excitement ends when Stitch admits that he stole the candy from other trick-or-treaters. Together, Lilo and Stitch do the right thing—return the candy. They board Stitch's spaceship and fly over the town, dropping the candy on the trick-or-treaters below. That night, Lilo and Stitch sleep happily, with Lilo's list completed. It was a perfect Halloween after all. 
Stitch-or-Treat continues the story of Disney's beloved Lilo and Stitch and is sure to charm fans of the film. Readers who are unfamiliar with the characters will nonetheless be entertained by the sweet and short misadventure of the unlikely pair. The book's art style matches the style of the film, with decorations drawn in the background to create a proper Halloween spirit. Readers will laugh at the illustrations of Stitch trying on various costumes and his confused, frustrated expressions. Fans of other Disney films will also delight in seeing background characters dressed as characters like Snow White and Little Red Riding Hood. 
The book is part of the Step into Reading Level Two series, which targets readers in preschool through first grade. Each page features 1 to 3 short sentences in large font, making it an easy read. While it is an entertaining Halloween story, Stitch-or-Treat also teaches a valuable lesson about the importance of considering the needs of others. Stitch shows kindness and maturity by choosing to stop scaring others. Plus, both Lilo and Stitch show the same level of maturity by choosing to return the stolen candy, even if it meant that they both went without it.  
Sexual Content 
Violence 
Drugs and Alcohol 
Language 
Supernatural 
Spiritual Content