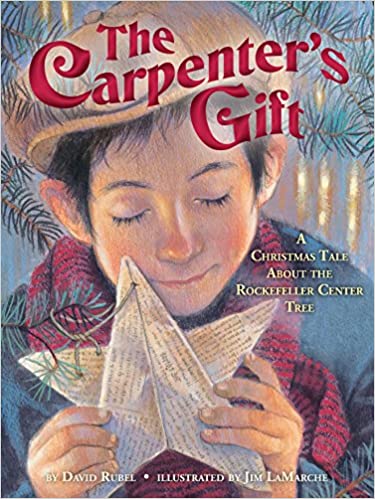 Buy This Book
---
---
"The best presents are the ones you don't expect," Henry

.

—

The Carpenter's Gift
The Carpenter's Gift
by David Rubel
AR Test
At A Glance
Interest Level

5+
Entertainment
Score
Reading Level
5.0
One Christmas night, Henry sits in his house and thinks blissfully back to a special day in 1931. He was a child then, growing up during the Great Depression. The historical downturn left a significant impact on his family. His family lived in a small house, and both of his parents were out of work. They struggled to afford coal for the stove or blankets for the beds. Henry kept an optimistic mind, and occupied himself with thoughts of warm, magical places.  
On Christmas Eve of that year, Henry was surprised to see his father arrive at the house in a big rental truck. He calls for Henry to come along, and the two happily drive to a nearby forest to cut down its evergreen trees and stack them onto the back of the truck. When Henry asks why, his father joyfully replies that they're going to New York City to sell Christmas trees. 
The thought of being in a big city like New York excites Henry, and he is immediately fascinated by Midtown Manhattan. Henry's father parks the truck beside a construction site and asks a worker if they can set up shop there. Acknowledging the pair's situation, the worker agrees. What follows is a heartfelt story of generosity and hope in the hardest of times. 
The Carpenter's Gift is a sweet holiday tale that spans several generations before arriving at the message that there is no better present than kindness. Henry searches time and again for the warm, magical moments he dreams of, and finds that these moments are produced not by magic but by simple acts of giving. 
The warm atmosphere of the book is strengthened by its lavish, impressionistic illustrations that are passionately drawn in the beautiful colors of each season. The illustrator makes several uses of double-page illustrations to portray the sheer scale and beauty of the evergreen trees. The story is told with simple, easy vocabulary, and readers can expect four to ten sentences on each page.  
The Carpenter's Gift is guaranteed to satisfy all readers who celebrate Christmas and is a comforting read for those looking for a warm story this winter season. 
Sexual Content 
Violence 
Drugs and Alcohol 
Language 
Supernatural 
Spiritual Content 
by Luke McClain 
---
"The best presents are the ones you don't expect," Henry

.

—

The Carpenter's Gift