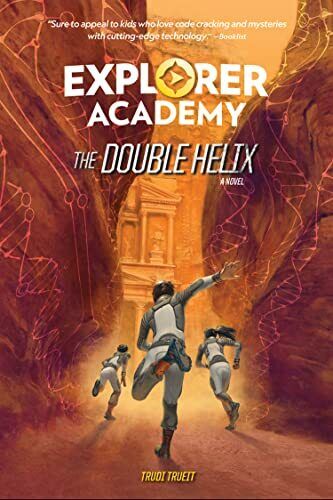 Buy This Book
---
---
"

Cruz knew that to succe

ed he needed to focus on the task at hand and push the

whatifs

away, but it wasn't easy. It never was.

"

–

The Double Helix
The Double Helix
Explorer Academy #3
by Trudi Trueit
AR Test, Diverse Characters
At A Glance
Interest Level

8+
Entertainment
Score
Reading Level
5.0
The mystery deepens and the action intensifies for 12-year-old Cruz Coronado and his friends in this exciting third book of the Explorer Academy Series.
Cruz, Emmett, Sailor, and Bryndis continue their studies at sea and travel to exotic locations around the world. A mysterious person alerts Cruz to impending danger while he and a few trusted pals explore ancient ruins in Petra, Jordan to search for another piece of the puzzle his mother left behind. Worst of all, now his father has gone missing, which prompts Aunt Marisol, his number one protector, to leave the ship in search of him. Who is the new professor who takes her place? Does the new technology this professor introduces help or hurt Cruz's quest? And why is Nebula determined to stop Cruz before he turns 13? The clock is ticking as Cruz's first teen birthday draws near…a milestone that will change his life forever. 
The action intensifies as Cruz tries to figure out a way to save his father without giving in to Nebula's demands. Back in Hawaii, Cruz's best friend, Lani, tries to track down Cruz's father. Readers will enjoy seeing more of the smart, gutsy girl who isn't afraid to jump into danger. As Lani investigates, she must decipher clues that Cruz's father has left behind. The chapters jump back and forth between multiple perspectives—Cruz, Lani, and the bad guys. This increases the suspense and reinforces the idea that Nebula will do anything to get what they want.  
Even though Cruz is on Orion, the academy's ship, Nebula is still able to get to him. Cruz should be safe aboard the ship, but several times someone tries to kill him. Cruz has no idea who to trust, but he's determined to solve the clues that his mother left behind. However, Cruz is unaware of the fact that Nebula needs him dead before his thirteenth birthday. The reason for this is not revealed, but it adds another layer of mystery to the story.  
The Double Helix's mystery becomes more complex, which will keep readers intrigued. With danger around every corner, new gadgets, and the introduction of archaeology, The Double Helix will keep readers on their toes. The story packs in interesting science. For instance, when the explorers learn about archaeology they also learn about the lucrative and illegal business of looting archaeological sites and selling cultural objects to private collectors. While The Double Helix educates readers, the lessons are brief and are well- integrated into the story, so they never feel like a lecture.    
The Explorer Academy Series is perfect for science-loving readers who want to see smart teens solve problems. The diverse group of characters are intelligent and likable because they are not perfect. However, Cruz makes a dangerous mistake when he goes off alone on an archaeological field trip and falls into a hidden ancient well. The conclusion ends in a cliffhanger that will have readers eagerly reaching for the next book in the series, The Star Dunes. 
Sexual Content  
When a girl's hand brushes Cruz's hand, "he felt a tiny shock go through him."

 
Violence  
While at a Halloween party, Cruz is blindfolded. Someone grabs him. "Another hand was on his neck, this one sliding around to his throat. As the glove tightened, Cruz's pulse began to race. He thrust his elbow straight back as hard as he could. . . the attacker's grip loosen[s]." Cruz escapes.

 

Someone pushes a rock off a cliff intending to hit Cruz, but someone pushes him out of the way. 

 

In the previous book, the bad guys kidnap Cruz's father. Cruz meets with the bad guys, intending to give them what they want. At the last minute, Cruz changes his mind and tries to run. "Cruz tried to pull away, but the man in the cap was too strong. He began to bend Cruz's arm back, pushing him to the ground. Pain shot through Cruz's wrist. His knees buckled. . ." Someone helps Cruz escape.

 

Someone pushes Cruz into an ancient well. Cruz "felt a jolt, and suddenly, Cruz was falling. . . Skin was scraping rock. Falling. . . A point punctured his spine . . .Cruz hit the unforgiving ground with a bone-crushing thud. Pain shot through his shoulder." He's stuck in a well with no way out.

 
Drugs and Alcohol  
Language    
During a Halloween party, when a zombie grabs a girl, she says "Bloody undead."

 
Supernatural 
Spiritual Content  
Many of the archaeological objects have carvings of ancient gods.

 
---
"

Cruz knew that to succe

ed he needed to focus on the task at hand and push the

whatifs

away, but it wasn't easy. It never was.

"

–

The Double Helix