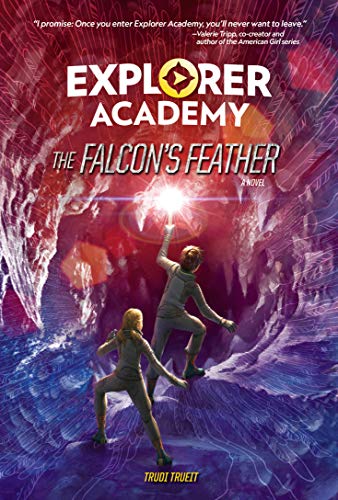 Buy This Book
---
---
"

This was more than someone looking for something—the intruder could have done that without them ever knowing he or she had been in the room. No. This was a message from Nebula. And the message was:

We can get to you anytime we want

,

"

Cruz

.

–

The Falcon's Feather
The Falcon's Feather
Explorer Academy #2
by Trudi Trueit
AR Test, Diverse Characters, Good for Reluctant Readers
At A Glance
Interest Level

8+
Entertainment
Score
Reading Level
4.8
In the exciting follow-up to The Nebula Secret in the seven-book Explorer Academy Series, Cruz, Sailor, and Emmett, along with their new ally Bryndis, embark on their first globe-trotting mission aboard the ship Orion. Cruz jumps right back into school and starts using the latest technology in submersible underwater dives, but is soon reminded of the dangers of exploration when his equipment fails and he almost drowns. Determined to keep his eyes on the prize, Cruz sneaks away to find answers but unknowingly lures his friends into bigger trouble. When a friend of Cruz's mom meets an untimely end, Cruz's luck seems about to run out and the questions multiply. What does his mother's message mean? Where will it lead? Who is following him? And why?  
Cruz's adventure takes him and his friends to the land of the Norse gods. While there, Cruz and his classmates are introduced to amazing technology that is prominently featured. The technology is interesting and gives The Falcon's Feather the opportunity to educate readers on several different global threats facing our world, including melting glaciers, endangered whales, and the lack of biodiversity in crops. For example, Cruz and his team go on a mission to save whales trapped in fishing nets. Before they leave, they learn "it's not uncommon for larger marine animals to get snagged in lines and nets. . . More than three hundred thousand whales, dolphins, and porpoises die this way every year—that's one every two minutes." The facts are well-integrated into the story and never feel like a lecture or an encyclopedia. 
The Falcon's Feather combines a well-written story with maps and illustrations that appear every two to twelve pages. Many of the illustrations are a mix of photographs and drawings, which gives the pictures a touch of realism. Another positive aspect of the book is that the academy encourages cooperation, respect, and honor. While all the students do not necessarily like each other, they are still expected to work together to reach a common goal. Plus, the book includes a section titled The Truth Behind the Fiction, which combines pictures and short blurbs on people featured in the book who have interesting jobs. While this story recaps important plot points from the first book, the series should definitely be read in order. 
As the second installment of the Explorer Academy Series, The Falcon's Feather ramps up the action and gives readers more insight into the different characters. The large cast of characters that appeared in The Nebula Secret are beginning to feel like friends. Plus, suspense is created because the reader knows there is someone inside the academy who wants Cruz dead. The Explorer Academy Series will appeal to many readers because it has mystery, technology, animals, and an interesting cast of characters. The Falcon's Feather ends on a cliff-hanger, so readers will be eager to begin the next book in the series, The Double Helix.  
Sexual Content  
Violence  
Cruz and his friends help whales who are trapped in nets. The group learns that if whales are "unable to break free in time, it can lead to serious injury or even death. The ropes can slice through their skin and cause infection. They can deform bones, cut off part of a tail, and restrict breathing, swimming, and eating." Many whales die due to nets.

 

A friend of Cruz's mom, N

ó

ri, was planning to meet Cruz at a hot spring. When Cruz arrives, he discovers that N

ó

ri was pushed into the hot pools and "badly burned…From the chest down, N

ó

ri was wet and violently shivering." N

ó

ri dies from his injuries.

 

While looking for an artifact in an ice cave, Cruz and his friends are cornered. "Cruz was facing two men. One was Officer Wardincorn. The other was Tripp Scarlatos. Both were holding guns." The two men question the kids and then "Tripp tossed something round and green into the air. . . a massive boom rocked the cave. Ice began raining. Cruz could feel the sting of hundreds of shards pelting his head, neck, shoulders, and back." No one is seriously injured.

 

During a phone conversation, one of the villains reveals that his henchman "is dead. Fell into a crevasse."

 
Drugs and Alcohol  
Language    
One of Cruz's friends calls Tripp a jerk.

 
Supernatural 
Spiritual Content  
When someone knocks on the door to Cruz's room, his roommate quickly hides a vacuum. Cruz says "a silent prayer of thanks that [his aunt] insisted he bring it."

 
---
"

This was more than someone looking for something—the intruder could have done that without them ever knowing he or she had been in the room. No. This was a message from Nebula. And the message was:

We can get to you anytime we want

,

"

Cruz

.

–

The Falcon's Feather