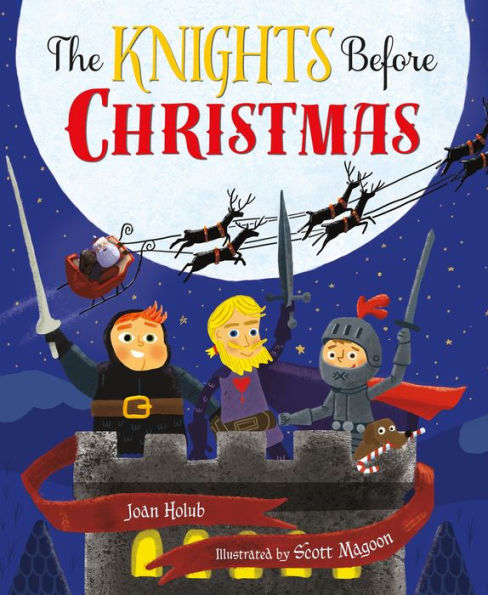 Buy This Book
---
---
"The invader was gone. And in his haste to flee, he'd forgotten his catapult. Yay! Victory! –The Knights Before Christmas
The Knights Before Christmas
by Joan Holub
AR Test
At A Glance
Interest Level

5 - 8
Entertainment
Score
Reading Level
3.0
'Twas December 24th, and three brave knights were just settling in for the night when out on the drawbridge, there arose such a clatter! The knights try everything to get rid of this unknown invader (Santa Claus!), a red and white knight with a fleet of dragons . . .
The Knights Before Christmas is a delightful parody of Clement Clarke Moore's well-known poem "'Twas the Night Before Christmas." The Knights Before Christmas is a perfect read-aloud book because each page contains four rhyming lines that detail the knights' plight. In addition to the poem, some pages contain speech bubbles that take famous Christmas songs and give them a humorous twist. For example, one knight thinks, "I'm dreaming of a white javelin, just like the one I used to throw. . ."
Readers will laugh at the words and appreciate the adorable pictures of the knights trying to keep Santa Claus out of the castle. The picture book contains colorful, cartoonish pictures that bring detail to the knights' activities. Younger readers may not understand all of the humor. For example, the knights "consult the king's book on what good knights should do." The illustration shows the king's book, which says, "draw the bridge." The next page shows a knight creating a drawing of a bridge. Even if readers do not understand all of the story's humor, they will still want to read the book again and again.
The Knights Before Christmas is a festive, fun story that readers will want to pull out every Christmas season. The story contains elements that the young and the old will both enjoy.
Sexual Content
Violence
To prepare to chase Santa Claus away, the "Silent Knight duked it out with a many-armed coat." The illustration shows the knight boxing a coat.
Trying to deliver his gifts to the knights, Santa Claus uses a catapult to throw sugarplums. While the knights hide, "dozens of sugarplums rained down on their heads. . . Three shields came in camouflage. Mint spears hit the gate, as Santa stormed that castle with his fierce dragon eight."  Santa continues to throw the gifts, including gingerbread men, into the castle.
Drugs and Alcohol
Language
Supernatural
Spiritual Content
---
"The invader was gone. And in his haste to flee, he'd forgotten his catapult. Yay! Victory! –The Knights Before Christmas