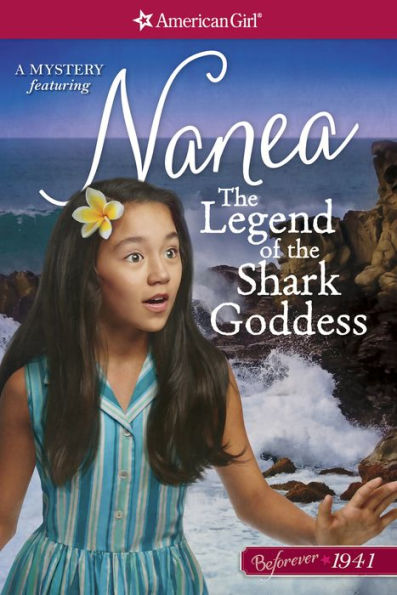 Buy This Book
---
---
"Yes, we should be slow to judge others. Trust more and judge less, Nanea. That is the aloha spirit," Tute Kane –The Legend of the Shark Goddess  
The Legend of the Shark Goddess: A Nanea Mystery
American Girl Mystery
by Erin Falligant 
AR Test
At A Glance
Interest Level

9+
Entertainment
Score
Reading Level
4.2
Ever since the war started, Nanea has done her best to follow all the new rules. When she meets a boy named Mano in her grandparents' market, Nanea is shocked to hear him admit to breaking some rules—and bragging about getting away with it.
When things start to go missing from the market, Mano is the first person Nanea suspects. Nanea is determined to protect her grandparents, but Mano, whose name means "shark" in Hawaiian, seems to be hanging around the market more and more. What can Nanea do to keep her family safe from this dangerous boy?
Nanea's story focuses on the effects of World War II in 1941. In a kid-friendly way, The Legend of the Shark Goddess illustrates some of the discrimination that Japanese Americans faced. Even though the story takes place after the bombing of Pearl Harbor, the story also revolves around Nanea's efforts to discover who is stealing from her family. As the mystery evolves, Nanea realizes it is difficult to tell if someone is a "good shark or a bad shark."
Nanea is obsessed with following the rules, which is one reason she focuses on her first impressions of others. For example, when Nanea meets Mano, she is convinced he is the thief because he breaks curfew. Nanea is so focused on proving that Mano is a thief that she never really considers that anyone else could have taken the items. While most of the suspects are not well developed, the story provides enough mystery to keep readers entertained.
The Legend of the Shark Goddess does an excellent job describing Hawaii during the 1940s. Readers will learn many facts about this time period as well as several life lessons. The story focuses on two main lessons: don't spread rumors and don't judge others. The repetition of the lessons is a little tedious, but the conclusion helps reinforce the story's lesson in a surprising way.
Readers who love mysteries may be disappointed that Nanea doesn't do much sleuthing and there are no clues to follow or riddles to solve. Instead, the story relies on Nanea's impressions of others to build suspense. However, Nanea's story is interesting and many middle school readers will relate to Nanea. At the end of the book, readers will find a glossary of Hawaiian words and facts about Nanea's world. Even though The Legend of the Shark Goddess lacks mystery, readers will still enjoy spending time in Nanea's world. Readers who like history with a dash of fantasy should also read The League of Secret Heroes by Kate Hannigan.
Sexual Content
Violence
 Drugs and Alcohol
Language
Supernatural
Spiritual Content
Nanea often thinks about the shark goddess Ka'ahupahau, "who guarded the entrance of Pearl Harbor with her brother, Kahi'uka. . . She was born a human with fire-red hair. But as a shark, her body could take many forms. She could become a net, difficult to tear. And with her net body, she captured man-eating sharks that entered her harbor."
---
"Yes, we should be slow to judge others. Trust more and judge less, Nanea. That is the aloha spirit," Tute Kane –The Legend of the Shark Goddess