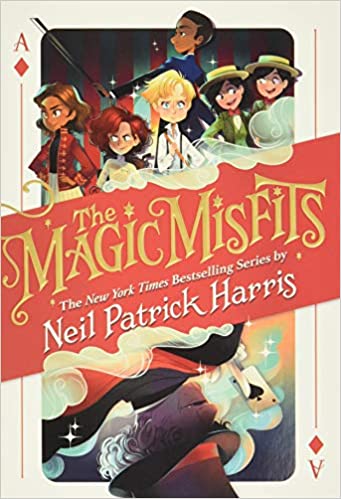 Buy This Book
Buy This Series
---
---
"A new friendship has formed among you. One of you is a traveler. One of you has great advantage. Another has terrible hardships. And the last of you has much love to share. But each of you has a long road ahead. It will be hard at times, but if you work together and stay true to one another, nothing will bar you," Helga.

–Magic Misfits
The Magic Misfits #1
by Neil Patrick Harris
AR Test
At A Glance
Interest Level

8+
Entertainment
Score
Reading Level
4.8
Street magician Carter is used to distrusting everyone because of the trickery and pickpocketing he must pull off in order to survive on the street. He can't afford to make meaningful connections with anyone besides his Uncle Sly. So, when he runs away from his uncle, he never expects to find new friends in a sleepy New England town. But like a magic spell, his life changes fast when Bosso and his crew arrive and try to steal any valuables they can get their hands on. 
After one fateful encounter with Dante Vernon, the local purveyor of illusions, Carter meets five like-minded illusionists: the escape artist Leila, the inventor Ridley, the violinist Theo, and the comedy duo Olly and Izzy. With magic and teamwork, the six kids will set out to save the town from Bosso's villainous schemes.   
Magic Misfits focuses on Carter's point of view, allowing the reader to gain insight into Carter's love of sleight of hand and how he adjusts to being in a group of like-minded people. Readers will empathize with Carter's move to a new place and his adjustment to his new life there. In addition, an omniscient, unnamed narrator occasionally interjects with a summary of events that happened in the story or information about the characters. The narrator's commentary and humor blend in seamlessly with the rest of the narration. Black-and-white pictures scattered throughout the story also aid in the understanding of the action.  
Uncle Sly taught Carter to be wary of people. However, Carter learns to trust people. Leila helps him break down his guard. His other friends not only help in terms of emotional support, but they also help him get settled in his new town. For instance, Theo invites Carter to stay at his house for a few days, highlighting and reinforcing the idea that friends help friends, no matter the situation. 
Another positive aspect of the story is the how-to-magic tricks that are sprinkled throughout the story. These break up the action and include instructions for readers to try the tricks, with a few illustrations as reference points. These tricks, such as rolling coins on your knuckles and making color predictions, are easy to do, but adults are encouraged to help their little ones with these activities.   
Magic Misfits is a fun, entertaining story that draws upon the flare and grandiosity of magicians. The excellent narration and colorful descriptions of the town alongside the pictures make the setting come alive. There is a diverse cast, not just in the main characters but also the supporting characters; notably, Leila has two dads. Readers will enjoy reading about how Carter's friendships develop as well as the teamwork between him and his new friends. Plus, the inspiring conclusion shows Carter and his friends besting the villains with their talents and with their trust in one another. If you are looking for more stories about magic, friendship, and teamwork, try Amari and the Night Brothers by B.B. Alston. 
Sexual Content  
Violence  
Drugs and Alcohol  
Language    
When finding out that Uncle Sly had rigged the shell game, a passerby yells, "You no-good, dirty cheat!"

 

Uncle Sly calls one of their neighbors an "old broad."

 
Supernatural  
Many of the characters use tricks and illusions, such as Leila's escape artist tricks or Dante Vernon's sleight of hand. These are illusions, not supernatural magic. 

 
Spiritual Content  
---
"A new friendship has formed among you. One of you is a traveler. One of you has great advantage. Another has terrible hardships. And the last of you has much love to share. But each of you has a long road ahead. It will be hard at times, but if you work together and stay true to one another, nothing will bar you," Helga.

–Magic Misfits