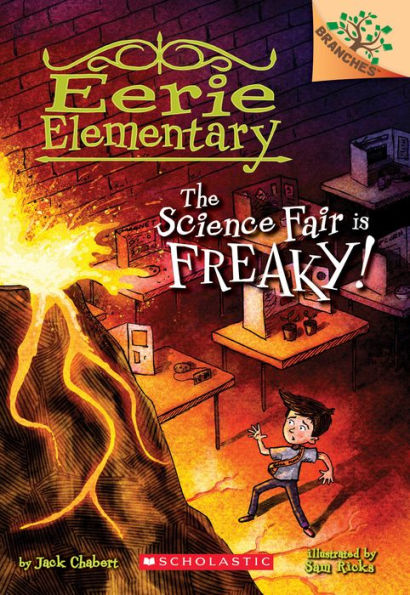 Buy This Book
Buy This Series
---
---
"Nothing in this school is normal," Lucy.  —The Science Fair is Freaky!
The Science Fair is Freaky!
Eerie Elementary #3
by Jack Chabert
AR Test, Diverse Characters
At A Glance
Interest Level

6+
Entertainment
Score
Reading Level
3.6
Eerie Elementary is preparing for its first science fair in seven years. As Sam, Antonio, and Lucy try to figure out what experiment to perform, they stumble upon a strange book hidden in the library. The school comes alive and tries to snatch the book from the kids. During the science fair, the ground shakes, projects explode, and a giant volcano forms in the gym floor. How can the friends keep the book from a school that spews lava? Can they discover what secrets are hidden in the book?
Eerie Elementary is an action-packed and fun series to read. The Science Fair is Freaky! includes fun illustrations of the friends using problem-solving skills to figure out what is hidden in the strange book. The book contains simple sentence structures and an easy-to-follow plot. The abnormal occurrences in the book are exciting and contain onomatopoeias that enhance the storytelling. Although the school comes alive and tries to keep the book away from the kids, the story is spooky, but not scary.
The easy-to-follow plot is entertaining and appropriate for newly independent readers. However, The Science Fair is Freaky! will be enjoyed by older readers as well. Readers who enjoy the Notebook of Doom series will want to jump into the world of Eerie Elementary. Readers will learn about several science projects and may want to research how to perform them at home. The story ends with discussion questions that will add to the learning value of the book.
Sexual Content
Violence
When Sam and his friends find a strange book hidden in the library, the library attacks them. "Books leapt from the shelves! One slammed into Sam's stomach, knocking him to the side. Another clonked Antonio in the shoulder. Lucky ducked just before an encyclopedia took her head off."
Eerie Elementary makes the science fair projects go berserk. Then the floor turns into a volcano. "Lava bubbled from the volcano's crater. The floorboards that formed the volcano were melting! Sam's heart pounded."
Drugs and Alcohol
Language
Supernatural
"Orson Eerie was a mad scientist. He was also the architect who designed Eerie Elementary almost one hundred years ago. Orson Eerie found a way to live forever—he became the school. Orson Eerie was the school, and the school was Orson Eerie! Eerie Elementary was a living, breathing thing that fed on students."
Spiritual Content
---
"Nothing in this school is normal," Lucy.  —The Science Fair is Freaky!