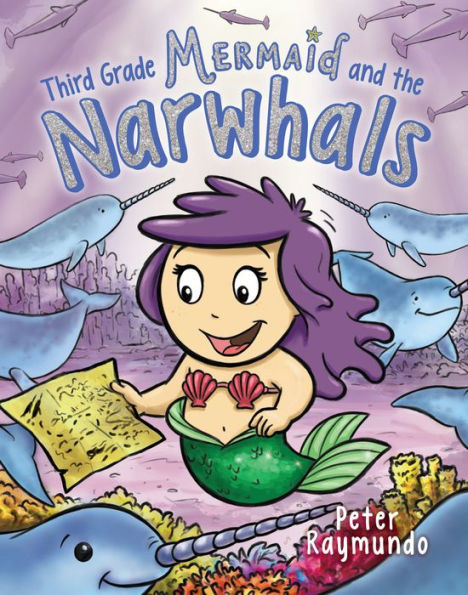 Buy This Book
---
---
"It's amazing. Those who believe they can and those who believe they can't are usually both right," King Shinbelly. —Third Grade Mermaid and the Narwhals
Third Grade Mermaid and the Narwhals
by Peter Raymundo
AR Test
At A Glance
Interest Level

6+
Entertainment
Score
Reading Level
3.6
Cora wrote a story about narwhals and reads it in class. Vivian Shimmermore makes fun of Cora's story, saying that narwhals are fake. To prove Vivian wrong, Cora and her friends travel across the open ocean to find a pod of narwhals before they migrate. Cora wants to show Vivian that narwhals are not just mythical creatures but really exist. Will Cora and her friends be able to find the narwhals before they migrate?
Third Grade Mermaid and the Narwhals has many elements that will appeal to younger readers. Readers will enjoy meeting Cora's friends—a sea cucumber and a shrimp. Delightful cartoon illustrations appear on every page; this allows the reader to visualize the sea creatures and the characters' emotions. Some of the conversations appears in speech bubbles, which helps break up the text into smaller parts.
As Cora travels to see the narwhals, she learns the importance of stepping out of her comfort zone. Through Cora's interaction with Vivian, Cora was encouraged to go find the narwhals—a feat that Cora did not think she could accomplish. Cora clearly doesn't like Vivian Shimmermore; however, when Vivian is afraid of the dark, Cora helps her overcome her fear. The story also teaches the importance of friends helping each other.
The story is told from Cora's point of view, which allows her personality to shine. Nevertheless, Cora has several qualities that are not worth emulating. When her teacher asks Cora to enter a writing contest, Cora only agrees to participate so she can "put Vivian in her place for once." Cora's interactions with others, even her friends, are at times slightly mean and snippy. When Cora asks for permission to go find the narwhals, she nags her mother. "The 'Yes Game' went on for some time before Mother actually said yes for real. But the point is she did."
The book also has several negative aspects. Even though Cora looks like a third-grader, the other two girls from her class look more like teenagers. The plot also doesn't enforce the importance of hard work. When it is time for Cora to write her story, she falls asleep and decides to turn in her diary entry. Even though Cora did not have time to write her story, she still receives first place.
With short sentences, dialogue, and definitions of difficult words, Third Grade Mermaid and the Narwhals is an engaging, easy-to-read book. The plot revolves around Cora's trip to see the narwhals; however, at the beginning of the story, the plot jumps around which may make it confusing for beginning readers. The story ends with facts about narwhals and narwhal vocabulary. Younger readers will enjoy Cora's adventure, the illustrations, and the sea life, but hopefully readers will not imitate Cora's negative personality traits.
Sexual Content
Violence
Drugs and Alcohol
Language
Supernatural
Spiritual Content
---
"It's amazing. Those who believe they can and those who believe they can't are usually both right," King Shinbelly. —Third Grade Mermaid and the Narwhals