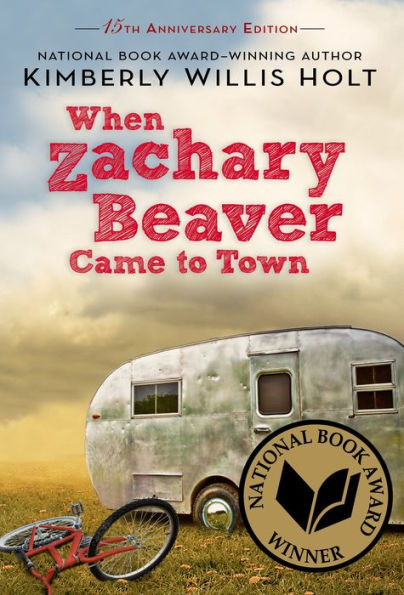 Buy This Book
---
---
"Sometimes we have to do things that we don't feel like doing," Dad. –When Zachary Beaver Came to Town
When Zachary Beaver Came to Town
by Kimberly Willis Holt
AR Test
At A Glance
Interest Level

10+
Entertainment
Score
Reading Level
4.5
Nothing ever happens in Toby's small Texas town. When Zachary Beaver comes to town, almost everyone is willing to give up their money to see the "fattest boy in the world" who weighs over 600 pounds. Toby and his best friend Cal try to befriend the boy, who says he's been everywhere including Paris. Toby realizes that most people only see Zachary's large size, not the sad boy underneath.
Zachary isn't the only thing on Toby's mind. Everyone seems to be leaving. His mother leaves home to chase her dream of being a country singer. His best friend Cal's older brother is fighting in the Vietnam war. Toby doesn't want anyone to know that his mom isn't coming back, so he makes up a crazy tale. It is then that Toby realizes that he and Zachary might not be so different after all.
Set during the Vietnam era, When Zachary Beaver Came to Town gives the reader a glimpse into life in a small Texas town, where everyone knows everyone. Although Zachary Beaver is the main focus of the story, there are other subplots that weave their way into the story. Toby is dealing with teen love, his mother leaving, as well as his best friend fighting in a war and eventually being killed.
Even though all of the events are told in a kid-friendly manner, many younger readers will find the character-driven story less than exciting. The beginning of the story introduces many, many characters who are difficult to remember. Toby, who tells his story, is interesting and brings humor to the story. Even though the story is told by a 12-year-old narrator, the story deals with some heavy topics including feelings of abandonment, death, dementia, and forgiveness.
Readers will eventually fall in love with Toby and the community; however, readers who are looking for an action-packed adventure will be disappointed in When Zachary Beaver Came to Town. The story highlights the importance of not judging others and forgiveness. The ending of the story will leave readers in tears as it highlights the importance of striving to make your dreams come true. There is a reason When Zachary Beaver Came to Town is taught in schools—it gives readers a picture of the time period as well as teaches important life lessons.
Sexual Content
Toby makes a joke about Miss Myrtie Mae who wears a "wide-brim straw hat." Toby says it's to "protect her virgin skin." Cal laughs, "That ain't the only thing virgin about her."
Toby talks to a girl he has a crush on. He thinks, "I want to reach for her, pull her toward me, and tell her it will be all right. I want to smooth her hair, massage her neck, kiss her toes. Instead, I wrap my arms around my knees." They dance and then she "kisses me on the cheek."
After Toby accidentally sprays himself with a girl's perfume, someone tells him, "You smell like a French prostitute."
Violence
Some kids start hitting Zachary's trailing and yelling insults, so Cal and Toby throw rocks at them.  Toby's "rock sails through the air and hits a perfect target. Mason's hands fly to his porky bottom. 'Ow!' When Cal hits Simon Davis's leg, Simon takes off crying, his hand pressed against his thigh." Toby and Cal accidentally break a window.
Cal rides his bike to the lake, hoping to outrun Toby. When Toby appears, Cal kicked water in his face. When Toby doesn't leave, Cal "slugs me on the arm. I still don't move and he punches me again. My arm throbs in pain." The two friends make peace.
Drugs and Alcohol
One of the adult characters, Ferris, got a tattoo when he was drunk. "He said he got them the night he met Jim Beam. Cal thought he was talking about a real person until I explained that Jim Beam was whiskey and Ferris was drunk as a skunk when he got the tattoos. That was before Ferris met Jesus and got religion."
While the townspeople are at a funeral, Ferris stays in his restaurant and gets drunk. He tells Toby, "Don't ever start drinking, Toby. Next to money, it's the root of all evil."
Cal gets a letter from his brother who is fighting in the Vietnam war. His brother writes, "it doesn't seem like anyone wants us here. Not even the people we're protecting. They just want to sell us cigarettes, booze, and anything else we're willing to put down our money for."
Language
Supernatural
Spiritual Content
Before Ferris was hurt, he "wanted to be a preacher. He even went a semester to a Bible college in Oklahoma. Now he never goes to church, but Mom says he knows the Bible from Genesis to Revelation."
Ferris owns a restraint and his "chalkboard hangs near the kitchen window behind the counter. . . Beneath the menu is the daily Bible verse. 'It is an honor for a man to cease from strife: but every fool will be meddling.' Proverbs 20:3. Mom says some people wear their religion on their sleeves. Ferris posts his on the chalkboard."
Toby includes Wayne, a boy who is fighting in the Vietnam War, in his nightly prayers.
Toby asks about baptism. Miss Myrtie Mae tells him, "The good Lord knows what state our mind is in when we make such a commitment. But it's a wonderful commitment, Tobias. The Christian life is not an easy life, but it brings such joy. And of course, there is the gift of eternal life." She then tells him the steps involved and hands him a paper with John 3:16 written on it.
Toby prepares to baptize Zachary, in case Ferris doesn't show up to perform the ceremony. Toby reads the Bible looking for a verse. "But as I read the story, I forget about searching for verses. I read that Jesus goes to John the Baptist and asks to be baptized, but John doesn't think he's worthy enough to baptize Jesus. Then Jesus says, 'Suffer it to be so now: for thus it becometh us to fulfill all righteousness.' So, John baptizes him." Toby calls Ferris and tells him to read the verse.
Zachary is baptized. As part of the ceremony, he must agree to "take the Lord Jesus Christ as your savior."
---
"Sometimes we have to do things that we don't feel like doing," Dad. –When Zachary Beaver Came to Town