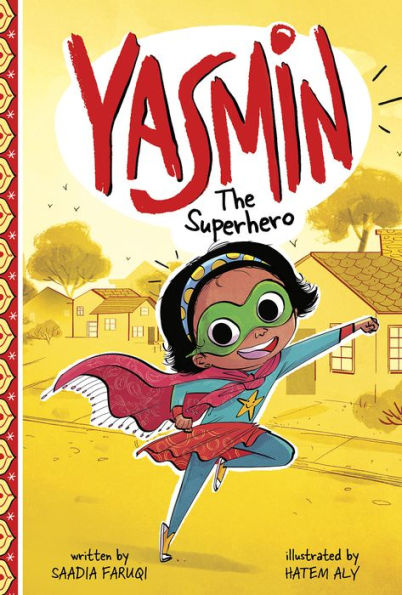 Buy This Book
Buy This Series
---
---
"Yasmin searched everywhere. She didn't see any evil villains. What was the point of being a superhero if there were not villains to defeat?" –Yasmin The Superhero
Yasmin The Superhero
by  Saadia Faruqi 
AR Test, Teaches About Culture
At A Glance
Interest Level

5+
Entertainment
Score
Reading Level
2.4
Yasmin loves superheroes and wants to be like them. She's got the cape. She's got the mask. Now, she just needs a villain to defeat! While she's looking for one, she meets lots of people who need her help, but no villains.
Instead of fighting villains, Yasmin helps a neighbor pick up groceries, helps a girl get a ball off of a roof, and helps someone solve a math problem. When at the end of the day Yasmin is upset that she didn't meet any villains, Baba tells her, "Evil villains are only in storybooks. In real life, superheroes are the ones that go out of their way to be kind and helpful." Yasmin discovers that she might not need a villain to use her superpowers after all!
The story has three short chapters. Each page has large illustrations that will help readers understand the plot. The full-color illustrations use cheerful colors. Yasmin is Pakistani and her mother wears a hijab. The people in Yasmin's neighborhood are a diverse group. Yasmin's mother also uses Urdu words, which are defined in a glossary that appears at the back of the book.
Yasmin The Superhero will help emerging readers feel confident with their reading. Each page has 1 to 4 short sentences which are printed with oversized text. At the end of the book, there are questions that will help students connect to the text, some fun facts about Pakistani, and directions to make a paper bag superhero.
Yasmin The Superhero is a super cute story that encourages readers to be kind and helpful. Every superhero fan will relate to Yasmin's desire to catch a villain and save someone. Nani and Nana help Yasmin create a brightly colored superhero costume, which includes a mask. In addition, both of Yasmin's parents are supportive of her superhero activities. Yasmin The Superhero is a cute story that will encourage readers to make a cape and help someone in need.
Sexual Content
Violence
 Drugs and Alcohol
Language
Supernatural
Spiritual Content
---
"Yasmin searched everywhere. She didn't see any evil villains. What was the point of being a superhero if there were not villains to defeat?" –Yasmin The Superhero