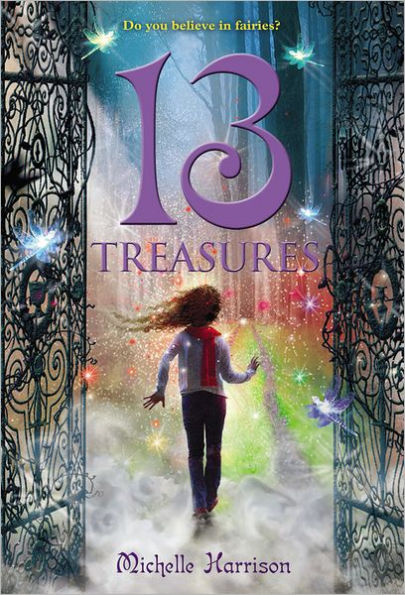 Buy This Book
Buy This Series
---
---
"To do something you're afraid of, especially for the sake of somebody else, is the very definition of courage. . ." —13 Treasures
13 Treasures
by Michelle Harrison
AR Test
At A Glance
Interest Level

8+
Entertainment
Score
Reading Level
5.3
Tanya can see fairies—evil fairies who want to keep their existence secret. When Tanya writes about the fairies in her diary, they come to punish her. They pinch her, rouse her from her sleep, and cast spells on her. Tanya's strange behavior can't be ignored or explained, and her mother isn't sure what to do. In an effort to get Tanya to behave, her mother sends her to Elvesden Manor, her grandmother's secluded estate.
In the hopes of learning more about how to protect herself from the fairies, Tanya sneaks into her grandmother's library. Soon Tanya is mixed up in a fifty-year-old mystery of a missing girl. But as Tanya tries to unravel the mysteries of her second sight, she soon discovers that there is more to the fairy realm that she first believed. And if she is not careful, she may be pulled into the fairy world and never be able to return home.
Right from the start, 13 Treasures creates suspense as the fairies attack Tanya. Tanya struggles to keep the fairies secret (or they will seek revenge) but also explain her strange behavior. When Tanya is sent to her grandmother's house, no one is particularly glad to see her, except Fabian the care keeper's son. The tension in the house creates suspense. The evil fairies, the unwelcoming grandmother, and the string of missing children all lead to a creepy mystery. However, Tanya proves to be a compassionate, plucky heroine that befriends a goblin.
13 Treasures is full of fairy lore, strange creatures, and complicated characters who add interest to the story. Younger children will enjoy having a few scares that don't leave them frightened. Even though the story is written for 8-12-year-olds, the language and the long descriptive passages may be difficult for some children.
Sexual Content
Violence
When Tanya writes about the fairies in her diary, they come into her room and warn her to stop.  One fairy makes Tanya float in the air and turn somersaults. Then, she is dropped and crashes to the floor.
When a goblin tells Tanya too much information, the other goblins beat him. "The goblin howled as Toadface drove a heavy fist into his stomach . . . The bruised goblin was left weeping in a heap on the ground. He had sustained several cuts to his face and was bleeding profusely, his lower lip split and swollen."
When Warwick sneaks up and grabs Tanya's shoulder, she kicks him in the shin.
When Tanya and Fabian try to go into the woods, a raven attacks Fabian. "It hooked onto the back of Fabian's mud-drenched clothes with long, black talons, and began a frenzied attack on the back of his head."
A drain dweller grabs Tanya's wrist, trying to rip off a bracelet. As Tanya struggles to get the drain dweller to let go of her, it bites her. "She felt, rather than saw, the blood running down her arm and dripping from her elbow." When the drain dweller gets the bracelet, it runs out the door and is eaten by the cat. "The creature did not scream when the cat's claws found their target, or even whimper as the broken, aged teeth clamped down on its windpipe for the kill."
In order for a human to escape the fairy realm, they must have another to take their place. Tanya is tied to a tree with spider twine so she can be forced to go into the fairy realm.
Drugs and Alcohol
Language
When Fabian sees a drain dweller he yells, "And what the hell is that?"
Supernatural
There are fairies, goblins, and other creatures.
Tanya has the second sight because someone in her family was switched with a changeling. "The second sight comes from having fairy blood."
A gypsy who lives in the woods is said to be able to see into the past. The gypsy gives Tanya a compass that will show the direction of her home.
The fairies threaten to use rosemary that grows in the piskies' domains to wipe Tanya's memory.
Fabian believes that a girl he saw in the woods could be a ghost. "Maybe she's trying to tell us that he did kill her all those years ago. Maybe she can't move on until justice is done."
The fairies use a glamour to disguise a fairy child that was switched with a human child. One of the characters is afraid the glamour will wear off and the baby would be, "put under observation in a laboratory somewhere—analyzed, poked, prodded, and experimented on."
Tanya is told that she must destroy anything that the fairies could use to control her. "Blood. Saliva. Fingernail and toenail clippings. Teeth. All the stories of witchcraft, of people being controlled by a witch in possession of a lock of their hair or a tooth—it all stems from the truth. You don't leave anything to chance."
Tanya is given a potion to rub on Fabian's eyes so he can see the fairies.
Spiritual Content
---
"To do something you're afraid of, especially for the sake of somebody else, is the very definition of courage. . ." —13 Treasures