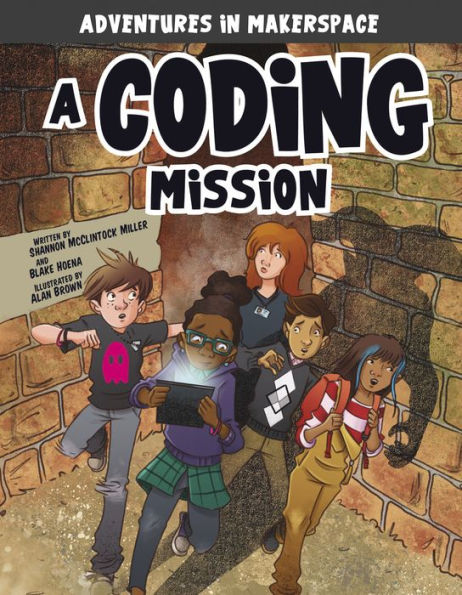 Buy This Book
---
---
"Well, we got out of the Labyrinth by moving toward one spot, the exit. That is how the pledge algorithm works," Codie. –A Coding Mission
A Coding Mission
Adventures in Makerspace
by Shannon McClintock Miller & Blake Hoena
AR Test, Diverse Characters, Good for Reluctant Readers, Graphic Novel
At A Glance
Interest Level

8+
Entertainment
Score
Reading Level
3.2
Ms. Gillian has set up The Makerspace in the library so students can work together on projects. A group of students built a diorama of a labyrinth, complete with the Minotaur and the Greek hero Theseus. A group of students decides they want to make a code to help Theseus find his way out of the labyrinth. What better way to try out the code than use Ms. Gillian's magic book to take them into the center of the labyrinth? Will the students be able to write a code that leads them out of the labyrinth before the Minotaur finds them?
A Coding Mission, a graphic novel, has a diverse cast of characters that aren't afraid of showing that they are smart. The story weaves together coding and Greek mythology. The kids, with the librarian's help, use trial and error to design a code to help them find the way out of the labyrinth. The code is illustrated on a device, so readers can get a general idea of what code looks like.
The full-color drawings are interesting, detailed, and have both white text bubbles that show the characters' dialogue as well as black boxes for the narration. Words that readers may be unfamiliar with are in bold text, with a glossary in the back of the book. The back of the book also contains directions for making a maze and using an algorithm to solve the maze.
The story has a lot of positives aspects—it teaches vocabulary, introduces a Greek myth, and has wonderful illustrations. Each page contains six or fewer easy-to-read sentences, and the plot moves at a fast pace. For those who want to learn more about coding, the book includes a list of further resources. However, because the story is so short, the characters and the plot are not well developed. More advanced readers will quickly become bored with the Adventures in Makerspace series. However, for readers who are just transitioning to chapter books or are reluctant readers, A Coding Mission will give them a simple, entertaining story that will help them build reading skills.
Sexual Content
Violence
Drugs and Alcohol
Language
Supernatural
When the librarian opens an old book, the librarian and the students poof and enter a labyrinth.
Spiritual Content
---
"Well, we got out of the Labyrinth by moving toward one spot, the exit. That is how the pledge algorithm works," Codie. –A Coding Mission