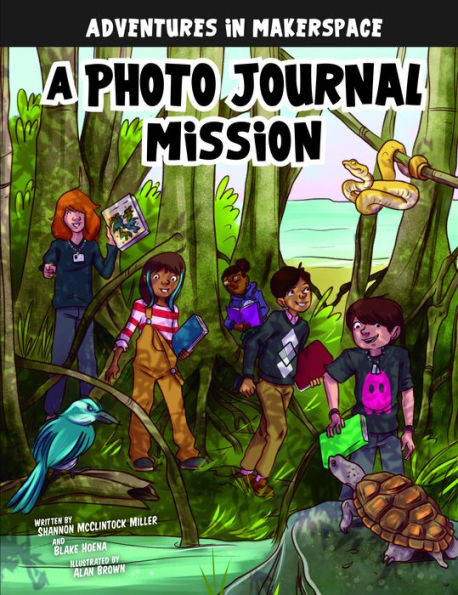 Buy This Book
---
---
"I wanted to combine my interest in plants and photography," English Botanist Anna Atkins. –A Photo Journal Mission
A Photo Journal Mission
Adventures in Makerspace
by Shannon McClintock Miller & Blake Hoena
AR Test, Diverse Characters, Good for Reluctant Readers
At A Glance
Interest Level

8+
Entertainment
Score
Reading Level
3.2
Cyrus's English teacher has given the class a photo journal assignment. Cyrus isn't sure what to put in his journaling notebook. He and his friends head to the library and talk to the librarian Ms. Gillian. In order to help Cyrus figure out what to put in his notebook, Ms. Gillian takes him and his classmates into the past to meet two historical figures that used different methods of creating notebooks that documented their area of study. When Cyrus returns to school, he uses what he learned to begin his own notebook.
A Photo Journal Mission, which is a graphic novel, features Cyrus who isn't afraid to ask for help on a difficult assignment. The diverse cast of characters jump back into time and meet John Audubon who wrote about birds. Audubon explains how he studied nature and wrote about it in a scientific journal. Audubon explains the importance of pairing illustrations with observations. After speaking with Audubon, the group meets an English botanist Anna Atkins, who was the first person to use photographs in a book. Atkins shows how she used photosensitive paper to create her images.
The story has a lot of positive aspects—it teaches vocabulary, introduces historical figures, and has wonderful illustrations. Each page contains six or fewer easy-to-read sentences, and the plot moves at a fast pace. For those who want to learn more about keeping a research journal, the book includes a list of further resources. The full-color drawings are interesting, detailed, and have both white text bubbles that show characters' dialogue as well as black boxes for the narration. Words that readers may be unfamiliar with are in bold text, with a glossary in the back of the book. The back of the book also contains directions for making a photo journal.
Because the story is so short and the characters and the plot are not well developed, more advanced readers will quickly become bored with the Adventures in Makerspace series. However, for readers who are just transitioning to chapter books or are reluctant readers, A Photo Journal Mission will give them a simple, entertaining story that will help them build reading skills.
Sexual Content
Violence
Drugs and Alcohol
Language
Supernatural
When the librarian opens a book of Birds of America, the librarian and the students poof and enter the past.
Spiritual Content
---
"I wanted to combine my interest in plants and photography," English Botanist Anna Atkins. –A Photo Journal Mission