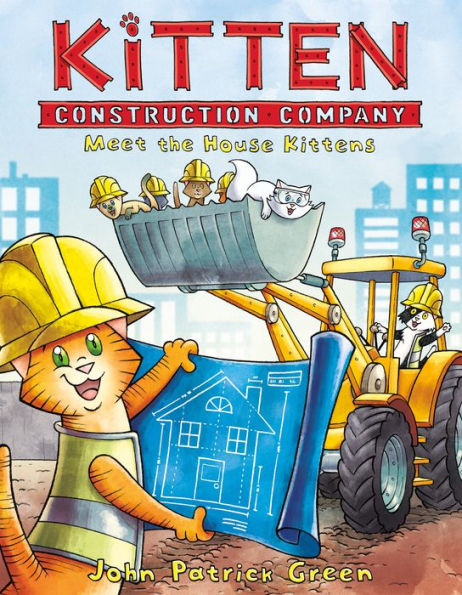 Buy This Book
---
---
"No one takes you seriously when you're a kitten. Especially one with the name Professor von Wigglebottom," Professor von Wigglebottom. – Meet the House Kittens  
Meet the House Kittens
Kitten Construction Company #1
by John Patrick Green
AR Test, Graphic Novel
At A Glance
Interest Level

6+
Entertainment
Score
Reading Level
1.7
All Marmalade wants to do is build things. She is, after all, a trained architect. She's also a distractingly adorable kitten.
Fed up with not being taken seriously because she's so cute, Marmalade bands together with a handful of other aspiring builders—all of them kittens. But in a world where humans call the shots, can the Kitten Construction Company prove their worth . . . without giving up the very things that make them kittens?
Meet the House Kittens has instant appeal because of the adorable cats on the cover. Many readers will be able to relate to Marmalade, who just wants to be taken seriously. Everyone assumes that an adorable cat's only job is to be cute so humans will stare at him. Readers will laugh as Marmalade meets other kittens who are also underappreciated. In the end, the kittens find an unlikely ally, who helps the Kitten Construction Company get the recognition they deserve.
The bright, comic-like illustrations are displayed in 1 to 3 large panels. While the illustrations mostly focus on the kittens, the adults have a variety of skin tones. Each page has 0 to 6 sentences that appear in quote boxes. Even though the story is a graphic novel, younger readers may need help with some of the more difficult words, such as irresistibly, version, and construction. In addition, readers may not understand all of the construction terms. For example, Professor von Wigglebottom says, "I am licensed and bonded to work masonry and lumber!"
Readers will enjoy seeing two sides of kittens—the fun, playful side and the more serious, professional side. The adults who are awed by the kittens' cuteness also add some humor. Even though Meet the House Kittens is packed full of humor and kitten cuteness, the story shows the danger of making assumptions based on names or appearances. Green builds a graphic novel that is the perfect blend of humor and teaching. Parents may want to use Meet the House Kittens to start a discussion on how we judge others and why that is wrong. If you're looking for another humorous graphic novel, check out the Pets on the Loose Series by Victoria Jamieson.
Sexual Content
Violence
A man chases Bubbles with a broom.
 Drugs and Alcohol
Marmalade goes to a café to "drown my sorrows." He orders, "One saucer of milk! And keep 'em coming!"
Language
Supernatural
Spiritual Content
---
"No one takes you seriously when you're a kitten. Especially one with the name Professor von Wigglebottom," Professor von Wigglebottom. – Meet the House Kittens