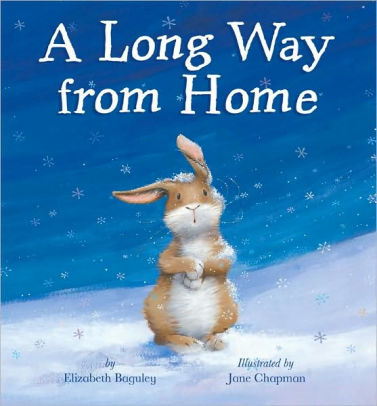 Buy This Book
---
---
Noah was wonderfully squished and squashed. He was delightfully crumpled and crammed. He was Ella's teddy bear again. –A Long Way from Home
A Long Way from Home
by Elizabeth Baguley
AR Test, Picture Book
At A Glance
Interest Level

5+
Entertainment
Score
Reading Level
3.0
It's bedtime in the burrow, and as usual, Noah is squished and squashed by sleepy rabbits. So out into the night he goes. Outside Noah meets his friend Albatross, who flies him to the land of the North Star, where sky and snow go on forever. When Noah falls from Albatross's back, he's not worried.
At first Noah loves being the only rabbit as he explores the snowy world. There's no one to squish or squash him. But when Noah snuggles up in an icy nest, he missing the cozy nest full of snuggly siblings. Noah wants to go home, but without wings how will he make it home? Will ever find Albatross?
The beautiful illustrations begin by showing Noah's cramped bunny den. Noah is being squeezed by his favorite sister, Ella. But Noah doesn't want to be held like a teddy bear. As the story progresses, the animals' expressions convey emotions. Noah visits a beautiful winter wonderland filled with blues and whites. The fanciful illustrations are lovely and young readers will want to look at them again and again.
Even though A Long Way Home is a picture book, the story intended to be read aloud to a child, rather than for the child to read it for the first time independently. Each page has 2-6 lines of text and some of the sentences are complex. However, the easy-to-read story's topic makes A Long Way Home a good bedtime story.
Children will relate to Noah's story. Even though adults will find A Long Way Home predictable, younger readers will love Noah's adventure in the snow and understand the theme. Noah learns to appreciate his family despite being squished and squashed. Parents can use Noah's story to discuss different habitats, Noah's personal growth, as well as the importance of appreciating what you have. A Long Way Home uses a winter landscape to create a warm story that highlights the joy of family.
 Sexual Content
Violence
Drugs and Alcohol
Language
Supernatural
Spiritual Content
---
Noah was wonderfully squished and squashed. He was delightfully crumpled and crammed. He was Ella's teddy bear again. –A Long Way from Home