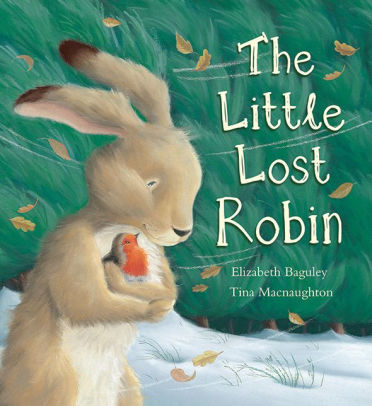 Buy This Book
---
The Little Lost Robin
by Elizabeth Baguley
Picture Book
At A Glance
Interest Level

5 - 8
Entertainment
Score
Reading Level
3.2
On the edge of the deep wood lives an old Hare. Once he would dance under the magical moon, but now he spends his time daydreaming. Every day, the Hare would walk into the woods and feed the birds. All of the birds fly away for the winter, except Robin. Every day, the Hare walks in the woods to visit his friend.
Hare worries about Robin when a big storm blows in, covering everything in snow. The next morning, Hare goes in search of his friend. Is Robin safe? Will Hare find his friend?
Beautiful artwork brings Hare and Robin's friendship to life. The story starts with gentle green mountains and fades to muted fall colors and finally to the blistery white of winter. As Hare wanders into the woods, younger readers will enjoy looking for Robin's scarlet feathers. Hare's facial expressions show that he cares for Robin. The Little Lost Robin is a beautiful story about the benefit of their special friendship.
The Little Lost Robin doesn't only have beautiful pictures; the poetic words use alliteration, imagery, and dialogue to describe the woods and the animal's friendships. It is unclear why Robin does not fly south with the other birds. However, Robin's experiences would be the perfect way for parents to introduce the reason why birds fly south for the winter.
The Little Lost Robin is a picture book that is intended to be read aloud to a child, instead of being read independently. With five or fewer sentences on each page, the story is a quick read. The Little Lost Robin is a sweet story about two friends that help make each other's day more enjoyable. Readers who would like a little more fall fun should add A Loud Winter's Nap by Katy Hudson to their reading list.
Sexual Content
Violence
Drugs and Alcohol
Language
Supernatural
Spiritual Content