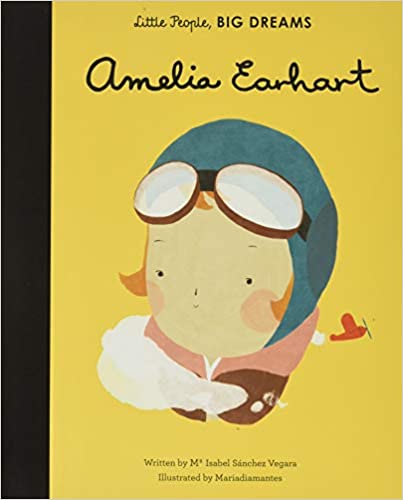 Buy This Book
---
---
Amelia "got a ride in an airplane and like it so much she didn't want to ever come down." –Amelia Earhart  
Amelia Earhart
Big Dreams
by Isabel Sanchez Vegara
AR Test
At A Glance
Interest Level

5—7
Entertainment
Score
Reading Level
4.2
When Amelia was young, she liked to imagine she could stretch her wings and fly away like a bird. As a grown woman, she set a new female world record for flying up to 14,000 feet. She also flew across the Atlantic and the Pacific oceans, and eventually undertook the most dangerous mission of all: to fly all the way around the world.
As part of the Little People, Big Dreams Series, Amelia Earhart retells the story of Amelia Earhart in a picture book format. Each two-page spread has one to two simple sentences that are easy to read. Another positive aspect of Amelia Earhart is the brightly colored illustrations. The simple illustrations are whimsical and beautiful. For example, one page features the ocean where a huge whale swims; Amelia flies over the whale, making her plane look tiny in comparison.
Because the picture book is intended for young readers, Amelia's life is not explored in detail. However, the biography explains enough of Amelia's accomplishments to show Amelia didn't allow obstacles to stand in the way of her dreams. The back of the book also has a short timeline of Amelia's life and includes four historical photos. There is also a list of other books about Amelia Earhart as well as a list of other books in the Little People, Big Dreams Series.
 Amelia Earhart's story highlights her amazing accomplishments in a kid friendly format that won't overwhelm young readers. Beginning readers will enjoy learning about Amelia's bravery as she flew "thousands of miles, over oceans and jungles and over the savanna, where giraffes turned their heads." By reading Amelia's story, readers will learn that dreams do come true. Readers who are interested in flight should also read the picture book Wood, Wire, Wings: Emma Lilian Todd Invents an Airplane by Kirsten W. Lawson.
Sexual Content
Violence
Although the book doesn't explain Amelia Earhart's plane crash, it does say that "she flew on like a bird, farther than anyone had gone before. . . never to return."
 Drugs and Alcohol
Language
Supernatural
Spiritual Content
---
Amelia "got a ride in an airplane and like it so much she didn't want to ever come down." –Amelia Earhart