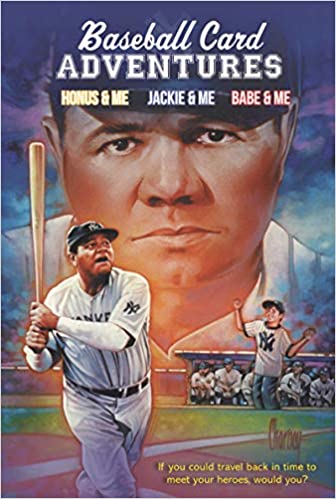 Buy This Book
Buy This Series
---
---
"Your dad is a good man. Nobody's perfect, but he's got a lot of good in him. I figure we should find the good in a person and try to get past the bad. Learn from the good. You don't have to copy everything about a person. Just the good things," Babe Ruth. –Babe & Me
Babe & Me: A Baseball Card Adventure
by Dan Gutman
AR Test
At A Glance
Interest Level

9+
Entertainment
Score
Reading Level
4.3
On October 1, 1932, during Game Three of the Chicago Cubs–New York Yankees World Series, Babe Ruth belted a long home run to straightaway centerfield. According to legend, just before he hit, Babe pointed to the bleachers and boldly predicted he would slam the next pitch there.
Did he call the shot or didn't he? Witnesses never agreed. Like other baseball fans, twelve-year-old Joe Stoshack wants to know the truth. But unlike other fans, Joe has the astonishing ability to travel through time using baseball cards—and now he's determined to settle one of baseball's greatest puzzles.
 Babe & Me explores the father-son relationship through both Babe Ruth's eyes and Joe's eyes. Even though Joe's father has spent little time with him, Babe Ruth points out the good aspects of Joe's dad. Despite this, Joe struggles with feelings of resentment because his father seems more concerned with coming up with get-rich-quick schemes than spending time with him. His father, who is often angry, blames his troubles on luck. He says, "You can try as hard as you want. Be as good as you can be. But a lot of what happens in the world is plain dumb luck." Towards the end of the book, Joe's dad finally realizes that his relationship with Joe is more important than money.
Throughout the story, both Babe Ruth's public persona and his private, more serious side are shown. Babe Ruth is loud, reckless, and a big spender when around people. However, when he is alone with Joe and his father, Babe Ruth has a tortured soul because of his upbringing as well as his belief that he was not a good father. Historical pictures and partial news articles are scattered throughout the story. Plus, the author explains what events actually happened and which events he made up. In addition, there are four pages of quotes from baseball players that show that even now, people do not agree on whether or not Babe Ruth called his shot.
Joe is a likable main character, who has conflicting emotions about his father. Because Joe and his father were able to spend time with Babe Ruth, they witnessed Babe Ruth's generosity, his reckless behavior, and his emotional turmoil. However, Joe's father is not necessarily a likable man and his change of attitude is not believable. Despite this, the fast-paced time travel adventure will appeal to sport-loving readers even though the story has little baseball action. Readers who want to learn more about Babe Ruth should also read Babe Ruth and the Baseball Curse by David A. Kelly. Middle-grade baseball fans can also jump back into time by reading The Brooklyn Nine by Alan Gratz.
Sexual Content
Babe Ruth sees a woman crossing the road and says, "Got a load of the sweet patootie! She is one red-hot mama!"
Violence
While at a park, men stood on wooden crates making speeches. As one man spoke, "some people booed, and somebody threw a rock at the guy . . ." When two policemen show up, "somebody threw a rock at one of them, and it bounced off his helmet. The cop pulled out a nightstick and hit a guy with it. . . The people in the crowd began to hiss and boo and throw things at the cops. The second cop pulled out his pistol and fired it up in the air." The scene is described over two pages.
Babe Ruth was signing his autograph when one boy dropped his paper. Joe picks it up and refuses to give it back to the boy. The boy's father "reached into his jacket and pulled out a knife." After the fathers' argument, Joe gives the paperback to the boy.
As a boy, Babe Ruth stole money from his father. "Dad caught me and beat me with a pool cue."
Babe Ruth's father "got kicked in the head in a fight outside his saloon and died when he was forty-six."
Babe Ruth tells a story about a baseball player who "didn't see a pitch coming at him. It busted his skull. He crumpled like a rag doll right in the batter's box." The man died.
One of the reasons that Joe's father is often angry is because of his family history. His grandparents and their children were rounded up by the Nazis. Joe's father says, "Only my father escaped, by hiding under the house. The Nazis sent the rest of the family to Treblinka, a concentration camp. They were all killed. In the gas chambers."
Joe's father catches Babe Ruth's home run ball. His father "and a few other guys dove for it, but I got there first. They tried to beat it out of me. That's how I got the black eye, actually."
 Drugs and Alcohol
Babe Ruth is seen smoking a cigar.
Even though it's prohibition, Babe Ruth orders a pitcher of beer. During his meal, "he washed everything down with another pitcher of beer."
Babe Ruth says that he "was drinking beer before I could read."
Language
Several times cuss words are replaced with @#$%.
Someone calls Joe's father an idiot.
Babe says heck once.
While at a game, some of the other teams called out insults. Someone calls Babe Ruth an "ugly tub of guts." He is also called, fatso, a washed-up balloon headed meatball, old potbelly, lummox, and other names.
Some boys are playing baseball. A boy calls a player a dope.
Supernatural
For Joe, baseball cards function as a time machine. When he touches an old card, "that tingling sensation was the signal that my body was about to leave the present and travel back through time to the year on the card."
In order for Joe and his dad to return from the past, Joe needs "to bring a new card. . . If I didn't have one with me, we could have been stuck in 1932 forever."
Spiritual Content
While men were giving speeches on the solution to the Great Depression, someone says, "God is the answer."
---
"Your dad is a good man. Nobody's perfect, but he's got a lot of good in him. I figure we should find the good in a person and try to get past the bad. Learn from the good. You don't have to copy everything about a person. Just the good things," Babe Ruth. –Babe & Me