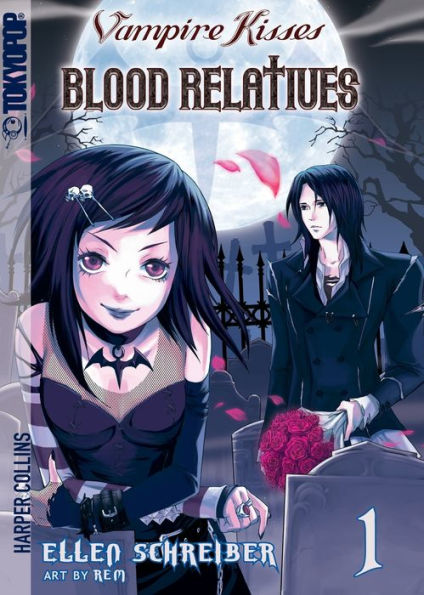 Buy This Book
---
---
"I thought I could figure out who those fresh graves belonged to by looking at the obits. But no one has died in this lame town in weeks - not even from boredom. So who could inhabit those caskets?" –Blood Relatives
Blood Relatives
Vampire Kisses #1
by  Ellen Schreiber 
Good for Reluctant Readers, Graphic Novel
At A Glance
Interest Level

14+
Entertainment
Score
Reading Level
2.5
The absolute last thing goth-girl Raven and her vampire boyfriend, Alexander, need is another hitch in their nighttime-only romance—but dark trouble hovers on the horizon when Raven and Alexander discover four freshly dug graves filled with empty coffins. When a crew of sketchy vampires takes up residence in Dullsville's lonely graveyard, Alexander finds this motley bunch led by his very own blood-sucking cousin, Claude Sterling. Shocking! Claude and his creepy crew can only spell out more problems for the pair, especially when Raven finds them in daylight in the very last place she could ever imagine. What could Claude and his invaders be doing—or searching for—in Dullsville?
Blood Relatives is based on a YA vampire romance novel that falls under the Vampire Kisses umbrella. Readers will find that the graphic novel Blood Relatives does not follow the same plot as any of the other novels. However, while Blood Relatives is extremely short and lacking in plot, it introduces all of the main characters and villains.
Even though Blood Relatives focuses on Raven and the vampire Alexander's relationship, Alexander spends most of his time trying to keep Raven safe. However, she is determined to find answers to the mystery, even if that means putting herself in danger. While teens may like the protective Alexander, some of the plot is unrealistic, such as when Alexander's cousin Claude drags Raven down the school's hallway and grabs her hair, but none of the students or teachers notice the abuse. In addition, no one questions why four new students, who are all the same age, enroll in school on the same day.
Readers will enjoy the manga artwork, especially Raven's fashionable goth clothes which include skull barrettes. While most of the black and white artwork is beautiful, some of the pictures do not feel finished. For example, in one picture Raven is crying but her eyes are empty and her face is poorly sketched. In addition, in one picture a "Cool Pax" is magically staying over her eye. Each page has eleven or fewer words. While some of the text is in quote bubbles, other text is printed in black with a white border that makes the text difficult to read.
The simple plot and vocabulary make the graphic novel a quick read. If you're looking for well-developed characters and a unique plot, Blood Relatives will be a disappointment. However, if you want to bite into a vampire romance that is pure entertainment, add Blood Relatives to your reading list. Make sure you have the second book in the series ready because the first installment ends with a cliffhanger.
Sexual Content
Raven kisses her vampire boyfriend three times. "One night at the mansion we sealed our date with a heart-meltingly passionate kiss."
While at school, Raven walks by two kids kissing in the hallway.
Violence
Raven runs away from a group of vampires that want to get information from her. One of the vampires grabs Raven by the hair and says, "like perhaps, at your house. . . for a midnight snack."
 Drugs and Alcohol
A group of half-mortal, half-vampires are looking for vials filled "with centuries-old pure vampire blood." The blood would make them complete vampires.
Language
Supernatural
Spiritual Content
---
"I thought I could figure out who those fresh graves belonged to by looking at the obits. But no one has died in this lame town in weeks - not even from boredom. So who could inhabit those caskets?" –Blood Relatives