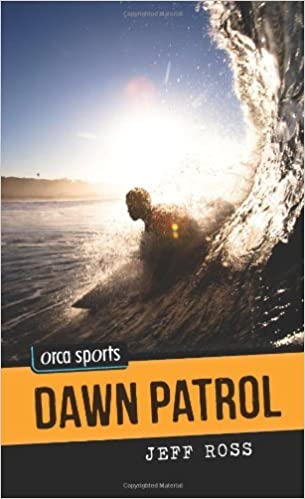 Buy This Book
---
Dawn Patrol
by Jeff Ross
AR Test, Good for Reluctant Readers
At A Glance
Interest Level

9+
Entertainment
Score
Reading Level
3.7
Luca and Esme have more than monster waves to worry about.
When Kevin disappears, leaving only a cryptic note, his best friends Luca and Esme have no choice but to try and find him. Their journey takes them to the coast of Panama, where they confront monster waves, unfriendly locals and a surfer who seems bent on destroying them. As their hope dwindles and time runs out, Luca and Esme realize they may be in over their heads.
Because of the short length of the book, none of the characters are well-developed. However, the fast-paced mystery will still capture readers' interest. The main plot focuses on Luca and Esme's search for their missing friend. As the two friends search for clues, they meet Jose, whose strange behavior puts Luca and Esme on high alert. Between surfing monster waves, looking for clues, and trying to track down Jose, Dawn Patrol keeps the action and mystery high.
The story is told from Luca's point of view. Readers will connect with Luca because he is an admirable character who is willing to go to great lengths to find his friend. The conclusion ends on a hopeful note but doesn't wrap up all the story threads. Despite this, Dawn Patrol is a quick and easy read that will engage readers. As part of the Orca Sports collection, Dawn Patrol is perfect for reluctant readers because it uses a high-interest topic that will entertain teens and help them improve their reading skills.
Sexual Content
When talking to a girl, Luca tells her that he's not interested in Esme. "Nor would I be interested in getting together in, um, that way with this Jose guy."
Luca meets Alana and a few days later, "she leaned over and kissed me on the mouth." Alana and Luca kiss two more times, but the kisses are not described.
Violence
While trying to chase down Jose, "a big guy in dark sunglasses ran out of a hut and barreled into us. . .I slipped and fell headfirst into the water. I popped up just in time to see Esme hit the water."
Esme is kidnapped. When Luca finds the hut Esme is being held at, he tries to sneak up to it, but "Jose came out of the trees and tackled me to the ground. . . I was face-first in the dirt. I struggled to get away. Jose had his hand on the back of my head, pushing my face into the sand." Luca gets away.
Kevin, Esme's boyfriend, holds a knife toward Delgado, the man that kidnapped Esme. "Kevin hit Delgado's throat with his forearm, dragged him to the ground, and smacked his head. There were tears on his cheeks." Delgado lets Esme go.
 Drugs and Alcohol
While in the village, Esme and Luca pass a group of people who are drinking beer.
Language
Profanity is used frequently. Profanity includes ass, crap, damn, and hell.
Supernatural
Spiritual Content