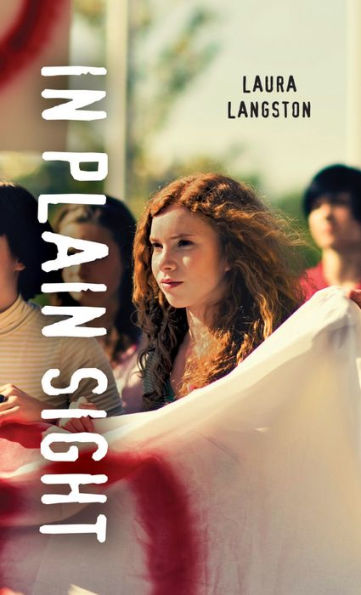 Buy This Book
---
---
"Everything in life is a choice . . . You can choose to be you. Or you can let someone else choose for you. It's your call," Matt. —In Plain Sight
In Plain Sight
by Laura Langston
Good for Reluctant Readers
At A Glance
Interest Level

13+
Entertainment
Score
Reading Level
3.2
Megan, who has moved all over the country, knows how to make friends. Now living in Las Vegas, Megan "Cause Queen" Caliente organizes a protest, where she is detained by police. When her mother comes to pick her up from jail, the police arrest her mother. Megan discovers that her mother has been living under an assumed name, and her father is a convicted terrorist.
Megan's life is suddenly turned upside down. Her friends turn against her, and gossip spreads like fire. Megan struggles to understand her mother's decisions. She also wonders if she will follow in her father's footsteps.
Written from Megan's point of view, In Plain Sight focuses on Megan's journey to understand her mother's choices as well as how her father's terrorist act will affect the person she becomes. After people discover who her father is, Megan must deal with gossip, and one student shouts, "Muslim go home!" Suddenly, Megan is stereotyped as an extremist and some of her friends abandon her.
Throughout the story, Megan learns about the impact of choices. Her friend Matt shares his own troubled background and teaches Megan that genetics don't determine who you become. Matt tells Megan, "Everything in life is a choice . . . You can choose to be you. Or you can let someone else choose for you." This theme is reinforced when Morgan struggles to deal with her father's deadly actions and decides to go to a memorial for those who her father killed. While there, a girl whose father died in the bombing, tells Megan, ". . .but if you came here looking for forgiveness, you're not going to get it. . . It's not yours to get. . . You didn't do anything wrong."
Written as a part of the Orca Soundings books, which are specifically written for teens, In Plain Sight is a fast-paced book that looks at the timely issue of terrorism in a teen-friendly manner. Teens will enjoy this high-interest, easy-to-read story.
Sexual Content
Megan is upset when she finds out who her father is. In anger, she yells at her mom, "Well, sharing that [a computer] got you into a shit-load of trouble. And sharing your body got you pregnant."
Megan and Matt go on a road trip. They sleep in the vehicle for the night. When they get out their sleeping bags, Matt suggests, "Why don't we zip them together?" When Megan declines, Matt said, "Can't blame a guy for trying."
Violence
Drugs and Alcohol
During a protest, Megan saw a tourist with a can of Coors Light.
Megan's "big love is current events, not parties and weed."
Megan's aunt drinks a glass of wine.
Matt tells Megan, "I'm the son of a guy who dealt drugs for a living, and you don't see me selling the white stuff."
Language
Profanity is scattered throughout the book and includes ass, bitch, crap, damn, hell, pissed, and shit.
"Oh my god" and "my god" are each used as an exclamation once.
Someone calls Megan a "lying hag."
A police officer tells a protester, "Stay where you are and stop being a smart ass. . ."
When Megan's friend is goofing off, she thinks, "He's such a smart ass."
Megan makes a huge mistake and tells her mom she won't do it again. Her mom replies, "Damn right you won't do it again."
When Megan yells at her mother, she thinks, "I know I'm being a bitch. . ."
Supernatural
Spiritual Content
---
"Everything in life is a choice . . . You can choose to be you. Or you can let someone else choose for you. It's your call," Matt. —In Plain Sight