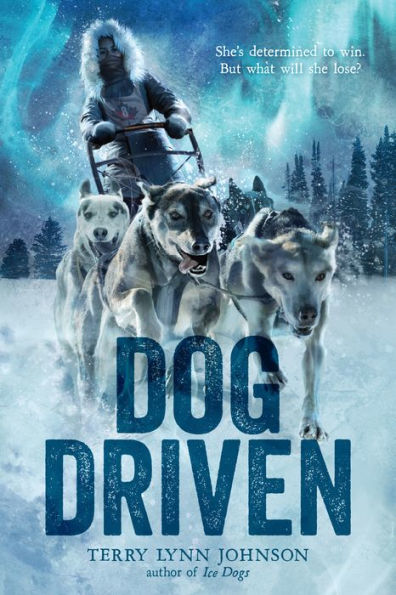 Buy This Book
---
---
"Why do I care so much when people waste their sight? I guess growing up with Em and seeing her loss of freedom along with her loss of vision makes me irritated by people who take perfect vision for granted," McKenna. –Dog Driven 
Dog Driven
by Terry Lynn Johnson
AR Test
At A Glance
Interest Level

10+
Entertainment
Score
Reading Level
3.6
Fourteen-year-old McKenna Barney is determined to keep her failing eyesight a secret, even if that means distancing herself from everyone—her friends, her parents, and even her sister. The only place McKenna feels any peace is when she's on the trail with her dogs.
McKenna's sister, Emma, is fighting a losing battle against eye disease. When Emma asks McKenna to enter a dog sled race, McKenna can't say no. McKenna plans on leading a team of eight sled dogs in a race, even though she's not sure she can see the dangers on the trail. To finish the race, McKenna will have to face three days of shifting lake ice, sudden owl attacks, and bitterly cold nights. As McKenna deals with snow squalls in the Canadian Wilderness, she must also come to terms with her terrifying vision loss.
McKenna hides the truth from everyone, including her toughest rival, Guy. As McKenna and Guy become friends, she wonders if she will be able to keep her secret from him. Is McKenna willing to risk everything, including her life, to keep her secret safe?
Throughout the story, McKenna's fear of losing her sight and her independence becomes clear. McKenna's parents cannot deal with her sister's loss of vision. Between her overprotective mother and her angry father, Emma's life is far from normal. McKenna is determined not to be a burden to her parents. As she drives her team of dogs through the wilderness, McKenna learns that with help, her loss of vision does not have to stop her from achieving great things.
Dog Driven is an easy-to-read story that shows the harsh conditions of the Canadian Wilderness. Throughout the story, McKenna faces every obstacle with the help of her dogs and her new friends. With family drama, teen pranks, and terrifying winter conditions, Dog Driven will entertain readers until the very end. Even though the story discusses the eye disease, Stargardt, the information never slows down the pace of the story. Instead, seeing the disease through McKenna's point of view will allow readers to understand the effects of the disease as well as how one family deals with it.
Readers will sympathize with McKenna and cheer for her as she continues the race. Her friend, Guy, adds interest to the story when he discusses how his relative used a dog sled to deliver mail in the 1800s. Each short chapter ends with a letter—sometimes the letter is from the current time, and other times the letter is from the past. The letters incorporate other people's thoughts and experiences, which gives the story more perspective. Dog Driven will not disappoint readers; the story will take readers on an epic race across the ice. Snuggle up with a warm blanket and sled your way into the Canadian wilderness with McKenna and her dogs.
Sexual Content
Violence
An owl attacks McKenna's head. "I can't help laughing as I probe the back of my head. There's a tender spot and a bit of blood."
A group of dogs get in a fight. "Horrifying sounds of their fight seep into me and root me where I stand. Mad chaos. Dogs everywhere snapping and scrabbling, some trying to get away, some tearing into whoever appears to be losing. It's the biggest dog brawl I've ever seen."
Drugs and Alcohol
Language
"Oh my God" is used as an exclamation twice.
Crap and heck are both used once.
Freaking is used three times. For example, when McKenna gets attacked by an owl, she says, "I'm going total ninja on this freaking owl if he comes back, I swear."
When a dog fight breaks out, someone says, "Oh-God-Oh-God-Oh-God."
Supernatural
Guy makes a comment about a wendigo. "I grew up hearing how ice caves are doorways to the Otherworld. The malevolent spirit of the early people, the wendigo, was the bringer of winter starvation and disease."
Spiritual Content
McKenna's mom says, "Thank God you're whole, McKenna, and we don't have to worry about you."
When someone gives McKenna a pair of sunglasses, she thinks, "Thank God for Harper giving me her spare."
---
"Why do I care so much when people waste their sight? I guess growing up with Em and seeing her loss of freedom along with her loss of vision makes me irritated by people who take perfect vision for granted," McKenna. –Dog Driven