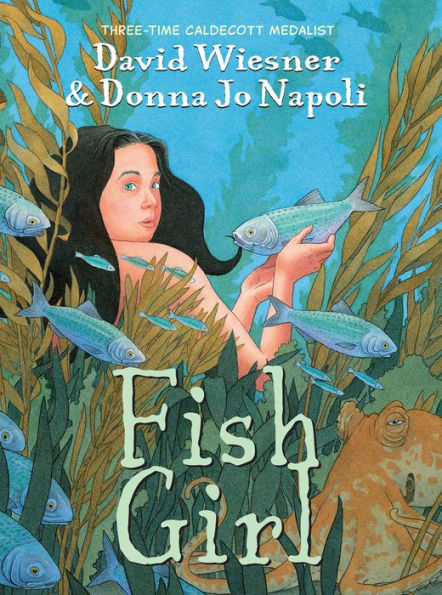 Buy This Book
---
---
"Neptune told my story the way he wanted, not the way it really was," Fish Girl. –Fish Girl  
Fish Girl
by David Wiesner & Donna Jo Napoli
AR Test, Good for Reluctant Readers, Graphic Novel
At A Glance
Interest Level

10+
Entertainment
Score
Reading Level
2.7
Who is Fish Girl?
She lives in a tank in a boardwalk aquarium. She is the main attraction, though visitors never get more than a glimpse of her.
She has a tail. She can't walk, but she can speak. She can make friends with Livia, an ordinary girl, and can yearn for a life that includes yoga and pizza. She can grow stronger and braver. With determination, a touch of magic, and the help of a loyal octopus, Fish Girl can do anything.
When Livia meets Fish Girl, she is determined to get to know her new friend. Due to Livia's curiosity, Fish Girl learns the truth about her origins and the falsehoods that Neptune, her captor, has told. Livia's friendship gives Fish Girl the inspiration and courage to go against Neptune's rules.
Fish Girl's journey comes to life in beautiful watercolor illustrations, drawn in blue hues. While most of the conversation appears in white quote bubbles, Fish Girl's thoughts appear in square boxes, which helps readers distinguish the speakers. Each page has 6 or fewer sentences, which are written with easy-to-understand vocabulary.
This graphic novel beautifully portrays the power of friendship. When Fish Girl is in danger, the octopus helps protects her. In addition, with Livia's help, Fish Girl realizes she has the power to free herself from her captor's grasp. The amazing illustrations of Livia's underwater home show an array of sea creatures. Fish Girl's facial expressions will also help readers understand her emotions.
Fish Girl will appeal to many readers because of the high interest in mermaids. The themes of friendship and freedom will also resonate with readers. Fish Girl's compelling story, coupled with beautiful illustrations, makes Fish Girl a wonderful book to read. The simple plot and vocabulary will appeal to reluctant readers and the heartwarming conclusion will put a smile on readers' faces.
Sexual Content
Violence
Fish Girl goes to the boardwalk. A man begins to follow her, and he grabs her hair. He says, "You've got nice hair. . . C'mon. Let's get out of here—" Fish Girl breaks free and runs.
A fisherman gets angry with Fish Girl and begins yelling at her. Her octopus friend grows larger and holds the man so Fish Girl can escape.
Fish Girl asks the ocean to destroy the aquarium. In response, the octopus grabs ahold of the building and pulls it towards the sea. "The ocean rises up, and sets the sea creatures free."
 Drugs and Alcohol
Language
Supernatural
When Fish Girl is in danger, the octopus grows into a giant like the kraken.
Fish Girl asks the ocean to destroy the aquarium in order to set the sea creatures free. After it's destroyed, she says, "It's dying down. You listened. Thank you, ocean."
Spiritual Content
The fisherman who owns the aquarium pretends to be "Neptune, god of the seas and storms."
The fisherman tells the Fish Girl that "the muses were lovely. They had the form of women and their voices were sweeter than anything anyone could ever dream of."
---
"Neptune told my story the way he wanted, not the way it really was," Fish Girl. –Fish Girl