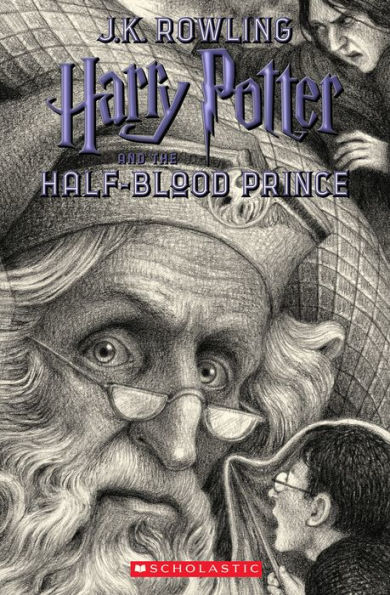 Buy This Book
Buy This Series
---
---
"We acquired it in curious circumstances. It was brought in by a young witch just before Christmas, oh, many years ago now. She said she needed the gold badly . . . Going to have a baby, see. She said the locket had been Slytherin's," said Caractacus Burke.  —Harry Potter and the Half-Blood Prince
Harry Potter and the Half-Blood Prince
Harry Potter #6
by J.K. Rowling
AR Test
At A Glance
Interest Level

9+
Entertainment
Score
Reading Level
7.2
The world finally believes that He-Who-Must-Not-Be-Named is back. While the ministry is scrambling to respond, Dumbledore has called the Order of the Phoenix, a secret society that fought He-Who-Must-Not-Be-Named last time, back into service. Harry, who is still reeling from the death of his godfather, is ready to join the Order and fight. But things prove more complicated. He-Who-Must-Not-Be-Named is in hiding, and the adults in Harry's life seem to think it is more important for him to return to school than to join the Order and fight.
Dumbledore is the only person who seems to think Harry can be of use. Dumbledore enlists Harry's aid in exploring one of the most cloaked mysteries in the magical world – how He-Who-Must-Not-Be-Named rose to power and achieved immortality. While He-Who-Must-Not-Be-Named has returned, Dumbledore believes there is a way to make the Dark Lord mortal once more, and Harry is the only one who can solve this vital mystery.
Harry Potter and the Half-Blood Prince continues the theme of a longer page count, which can be found in books 4-7 of the Harry Potter series. Although this novel has a serious tone, there are lighter moments that keep the story from becoming too heavy. The original cast continues to develop in interesting ways, and Harry's frequent trips into He-Who-Must-Not-Be-Named's past bring vivid new characters to life.
While still appropriate for most elementary readers, the end of this story does include Inferius, which are dead bodies bewitched to do a dark wizard's bidding. This scene may frighten more timid readers. However, more mature elementary students and junior high students will love exploring the mysterious web that is the childhood of He-Who-Must-Not-Be-Named, and will wait with bated breath to see where it leads.
Sexual Content
Fleur is a beautiful French woman who kisses people on the cheek as a form of greeting. Once she, "swoop[ed] to kiss [Harry] on each cheek; He felt the places where her mouth had touched him burn."
In a fit of rage, Mr. Gaunt tries to strangle his daughter. "His hands closed around his daughter's throat . . . with a roar of rage, Morfin leapt out of his chair and ran at Ogden, brandishing his bloody knife and firing hexes indiscriminately from his wand. Ogden ran for his life."
When Harry realizes Mundungus has been stealing Sirius' things, he "pinned Mundungus against the wall of the pub by the throat."
The headmistress of an orphanage mentions a bullying problem. "Billy Stubbs's rabbit . . . well, Tom said he didn't do it, and I don't see how he could have done, but even so, it didn't hang itself from the rafters, did it."
Harry sees "Dean and Ginny, who were locked in a close embrace and kissing fiercely as though glued together."
Ron gets a girlfriend and kisses her frequently. "There, in full view of the whole room, stood Ron wrapped so closely around Lavender Brown it was hard to tell whose hands were whose."
After winning the Quidditch Cup, "without thinking, without planning it, without worrying about the fact that fifty people were watching, Harry kissed her. After several long moments – or it might have been half an hour – or possibly several sunlit days – they broke apart."
Violence
Malfoy freezes Harry with a charm and, "stomped, hard, on Harry's face. Harry felt his nose break; blood spurted everywhere."
Snape has posters on the wall in his classroom. One is a poster of what happens when someone is attacked by Inferius (corpses bewitched to do a dark wizard's bidding). The poster merely shows, "a blood mass upon the ground."
Ron gets attacked by birds. He, "helped and covered his face with his hands, but the birds attacked, pecking and clawing at every bit of flesh they could reach."
Ron punches Harry while under the influence of a potion. "A crashing blow hit him on the right ear . . . Ron's fist was drawn right back; his face was contorted with rage."
Dobby and Kreacher get in a fight. "Dobby sank his knobbly little fist into Keacher's mouth and knocked out half of his teeth. Harry and Ron both leapt out of their beds and wrenched the two elves apart, though they continued to try and kick and punch each other."
Harry uses a spell without knowing what it does. "Blood spurted from Malfoy's face and chest as though he had been slashed with an invisible sword. He staggered backward and collapsed onto the waterlogged floor with a great splash, his wand falling from his limp right hand."
Snape kills Dumbledore. "A jet of green light shot from the end of Snape's wand and hit Dumbledore squarely in the chest. Harry's scream of horror never left him; silent and unmoving, he was forced to watch as Dumbledore was blasted into the air. For a split second, he seemed to hang suspended beneath the shining skull, and then he fell slowly backward, like a great rag doll, over the battlements and out of sight."
Dumbledore and Harry are attacked by Inferius. "The surface of the lake was no longer mirror-smooth; it was churning, and everywhere Harry looked, white heads and hands were emerging from the dark water, mem and women and children with sunken, sightless eyes were moving toward the rock: an army of the dead rising from the black water."
There is a fight when Death Eaters get into Hogwarts. It takes place over seven pages. "One of the fighters detached themselves from the fray and flew at him: It was the werewolf, Fenrir. He was on top of Harry before Harry could raise his wand: Harry fell backward, with filthy matted hair in his face, the stench of sweat and blood filling his nose and mouth." Later, a Death Eater "slashed at the air: Harry felt a white-hot, whiplike something hit him across the face and was slammed backward into the ground. Spots of light burst in front of his eyes."
Drugs and Alcohol
The Minister of Magic offers the Prime Minister whisky during a meeting.
Snape serves wine to his visitors. "Snape poured out three glasses of bloodred wine and handed two of them to the sisters."
When Dumbledore picks Harry up at the Dursleys, he conjures a glass of "Madam Rosmerta's finest oak-matured mead" for everyone. The Dursleys don't drink it, but Harry, "sipped. He had never tasted anything like it before, but enjoyed it immensely."
The headmistress of an orphanage gets tipsy on gin during a meeting with Dumbledore. "It soon became clear that Mrs. Cole was no novice when it came to gin drinking. Pouring both of them a generous measure, she drained her own glass in one gulp."
Professor Trelawny often leaves "a whiff of cooking sherry behind her."
Harry is given Chocolate Cauldrons with firewhisky in them, but he does not eat them.
A professor has a "glass of mead in one hand" during a party.
After Christmas, the Fat Lady is hungover because she and her friend "drank their way through all the wine in that picture of drunk monks."
Dumbledore "handed Voldemort a goblet of wine" when Tom Riddle applied to be a teacher at Hogwarts, many years ago.
Ron is poisoned by a glass of mead. "Ron had dropped his glass; he half-rose from his chair and then crumpled, his extremities jerking uncontrollably. Foam was dribbling from his mouth, and his eyes were bulging from their sockets."
Professor Slughorn and Hagrid get drunk after a funeral. The scene takes place over seven pages. At one point, Hagrid and Slughorn were sitting side by side, arms around each other, singing a slow sad song about a dying wizard called Odo."
Language
Damn and hell are used a few times. For example, Harry says Snape, "didn't think my mother was worth a damn either."
Mr. Dursley yells, "what the hell is that?" when he sees a house elf.
Ron calls his brothers gits.
Supernatural
Harry Potter goes to a school of wizards and is a part of an entire world of magic. His studies include divination, potions, and defense against the dark arts. He goes to school in a castle with magical rooms, house elves, and a potion master who can brew liquid luck. He encounters borrowed memories, the magical equivalent of zombies, and a prophecy. In short, Harry is surrounded by magic and supernatural occurrences every day of his life. As such, not all instances are listed here.
Although the series revolves around magic, the story does not encourage children to try magic on their own. To cast a spell, wizards simply say a word and wave their wand. For example, saying luminos casts light.
Professor Trelawney made a prophecy about the Dark Lord before Harry was born. She does not remember making the prophecy afterward, but it is stored in a secret Hall of Prophecies hidden in the Ministry of Magic.
Spiritual Content
There are ghosts in the castle that behave like regular (although transparent) people. One of Harry's teachers is even a ghost.
He-Who-Must-Not-Be-Named splits his soul and hides pieces of his soul in precious, hidden objects. His goal is to become immortal and unkillable. If he is killed, the pieces of his soul remain, and therefore he cannot truly die.
by Morgan Lynn
---
"We acquired it in curious circumstances. It was brought in by a young witch just before Christmas, oh, many years ago now. She said she needed the gold badly . . . Going to have a baby, see. She said the locket had been Slytherin's," said Caractacus Burke.  —Harry Potter and the Half-Blood Prince