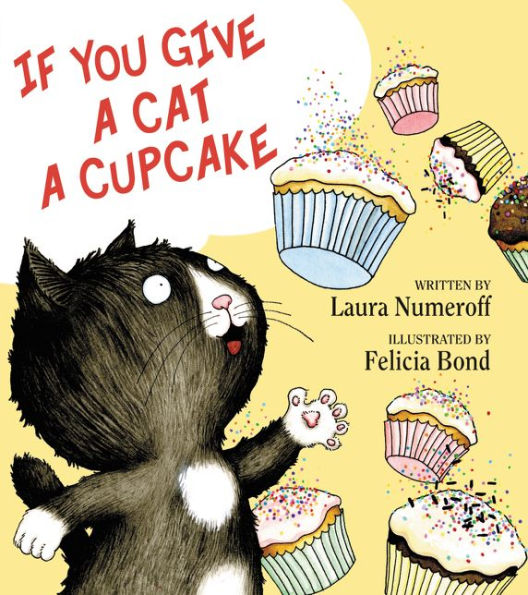 Buy This Book
---
If You Give a Cat a Cupcake
by Laura Numeroff
AR Test, Picture Book
At A Glance
Interest Level

4 – 8
Entertainment
Score
Reading Level
2.4
"If you give a cat a cupcake, he'll ask for some sprinkles to go with it. When you give him the sprinkles, he might spill some on the floor. Cleaning up will make him hot, so you'll give him a bathing suit . . ."
A little girl has a messy, mischievous cat who loves to have fun. The little girl takes the cat to the beach, to the gym, and to a merry-go-round. The little girl often has a surprised look on her face, while the adorable black cat is full of enthusiasm.
This simple story has one sentence on each page, which makes it a quick read. Each page's illustration shows the cat and his girl. The illustrations are often humorous. For example, the cat finds a "few" things to put in his beach pail; however, the pail overflows and contains a vast amount of items—seaweed, a boot, a hat, a toy truck, a hairbrush, etc. Other illustrations are silly, such as when the cat creates a sandcastle with the girl as part of it. The easy-to-read text and fun pictures make If You Give a Cat a Cupcake a fun book for younger readers.
If You Give a Cat a Cupcake will delight younger readers and introduce the idea of cause and effect. Sprinkle some fun into your day and read If You Give a Cat a Cupcake. Just beware, the story will give you a craving for a cupcake of your own.
Sexual Content
Violence
 Drugs and Alcohol
Language
Supernatural
Spiritual Content