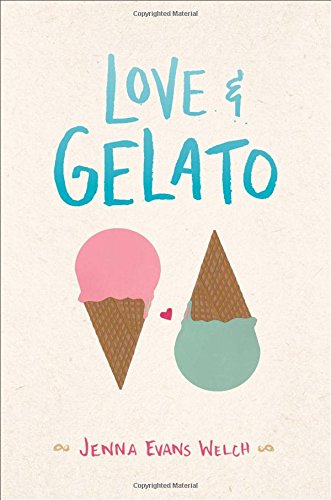 Buy This Book
---
---
"Everything around me was bright and beautiful and suddenly very clear. I didn't get to stop missing her. Ever. It was the thing that my life had handed me, and no matter how heavy it was, I was never going to be able to set it down. But that didn't mean I wasn't going to be okay. Or even happy," Lina. —Love & Gelato
Love & Gelato
by Jenna Evans Welch
AR Test
At A Glance
Interest Level

12+
Entertainment
Score
Reading Level
4.2
Lina Emerson already knows she faced the most challenging moment of her life when her mother suddenly passes from pancreatic cancer. But moving into an Italian WWII cemetery with a stranger claiming to be her father is not exactly going to be a walk in the park either. While navigating her own grief, Lina moves to Florence, Italy to meet Howard Mercer, a man at the center of her mother's dying wishes.
Lina promises her mother that she will stay in Italy for the summer and the following school year. Lina realizes that Howard is more amicable and fatherly than she initially assumed. This then leads her to two very pressing questions: Why did she not know anything about Howard until now? And, if he is the father he claims to be, is she ready to be his daughter?
Seeking desperately to solve the mysteries in her mother's past, Lina turns to a journal—the journal her mother filled during her own time in Italy. Following her mother's puzzling narrative, Lina reads about the events leading up to her mother's decision to leave Italy and now finds herself in a similar position. While Lina finds love, friendship, and beauty in Italy, just like her mother, she must similarly ask herself— is it best to leave Italy or to stay?
Love & Gelato is a narrative filled with decadent and delicate descriptions of early love, recognized grief, and Italian landscapes filled with the warmth of food and art. Welch so easily captures the tourist avenues through Florence, Italy, while also leading the reader through locations that a first trip to Italy may overlook. Throughout these descriptions, Lina's bubbly voice and personality shines strong and easily intertwines with her mother's own backstory. Entries from Lina's mother's journal are set intricately alongside Lina's current adventure in Italy, resulting in a satisfying and touching plotline that transparently demonstrates the way our loved ones walk alongside us even in their deaths. Readers are able to follow the true spectrum of Lina's grief as it transitions from an insurmountable weight to a memory she finds herself able to carry.
The portions of Love & Gelato that focus on young romance sometimes feel like they conclude too simply and resolve Lina's challenges with grief too quickly. However, it is because of its lighthearted narrative that Love & Gelato is perfect for someone looking for a sweet and warm story of friendship and newfound adventure.
In building her relationship with Howard and romance with Ren, Lina ultimately shows that family bonds can be forged with anyone, at any time, so long as both people choose to love each other. Though troubling decisions permeate throughout the entirety of Love & Gelato, Lina's story shows that the decisions we make in our life are always ours to own, and ours to change. Readers looking for more engaging romance stories may enjoy reading Since You've Been Gone by Morgan Matson and A Pho Love Story by Loan Le.
Sexual Content
Lina goes to a club called Space, where she describes how people "were really dancing. Like having-sex-on-the-dance-floor dancing."
While at Space with her friends, Lina describes being harassed by an older man. After seeing her, the man follows Lina and grabs her butt. As she tries to get away, the man pulls her close until her "pelvis was smashed up against his." One of Lina's friends, Mimi, sees the interaction and yells at the man until he leaves.
Lina's mother's journal describes a statue in Palazzo Vecchio called The Rape of the Sabine Women. Though a mistranslation, wherein the true title of the piece should be The Kidnapping of the Sabine Women, Lina's mom still describes a grotesque backstory in which Roman men kidnapped Sabine women and forced them into marriage.  In describing this confusing history, Lina's mother says, "When Rome was first settled, the men realized their civilization was missing one very important ingredient: women. But where to find them? The only women within striking distance belonged to a neighboring tribe called the Sabines, and when the Romans went to ask for permission to marry some of their daughters, all they got was a big fat no. So in a particularly Roman move, they invited Sabines to a party, then, partway through the night, overpowered the men and dragged all the women kicking and screaming back to their city. Eventually, the Sabines managed to break into Rome, but by that time they were too late. The women didn't want to be rescued. They'd fallen for their captures and it turned out life in Rome was actually pretty great. The reason I was confused by the statue's title is that it is mistranslated in English. The Latin word "raptio" sounds like "rape" but actually means "kidnapping." So really the sculpture should be called The Kidnapping of the Sabine Women." This is the extent of the description behind this sculpture.
When Carolina meets her real father for the first time, Matteo Rossi, he accuses her mother of lying about their relationship and says, "Later I heard she began sleeping with any man who looked her way. I'm guessing you're a product of that."
When Lina and her friends attend an eighteenth birthday party, there is a description of the birthday girl's mother. The mother "was wearing a tiara and a hot-pink minidress that was about ten seconds from giving up on keeping her boobs covered." Elena tells Lina that the mother "displays sexy pictures of herself around the house." Thomas then comments that Elena's mom has "bionic cleavage."
Violence
The prologue mentions Lina's mother suffering from an incurable and inoperable form of cancer. This illness is alluded to, so most details are left for the reader to assume, but the decline of Lina's mother may not be suitable for all readers.
Drugs and Alcohol
Ren takes Lina to a party, and the students drink intermittently throughout the scene.
One of Lina's friends, a teenager named Thomas, drinks heavily at an eighteenth birthday party Lina attends with him.
Language
At Elena's party, a student named Marco tells Lina the beer someone brought is disgusting, and then continues with, "I'd offer you a drink, but I just told you it tastes like piss."
At Elena's party, Lina mishears someone and thinks, "Crap. Did they ask me something?"
After hearing what Matteo Risso said to Lina about her mother, Ren calls him, "Che bastardo."
Supernatural
Elena's house is a historical mansion, so there is some talk of ghosts when Lina first visits the house. For instance, Ren tells Lina that Elena "passes the ghost of her great-great-grandmother Alessandra on the stairwell every night." Elena's sister, Manuela, refuses to live at the residence because "ever since she was little she's had this ancestor appear to her. The spooky part is that whenever the ghost appears she's the same age as Manuela."
Spiritual Content
by Hannah Olsson
---
"Everything around me was bright and beautiful and suddenly very clear. I didn't get to stop missing her. Ever. It was the thing that my life had handed me, and no matter how heavy it was, I was never going to be able to set it down. But that didn't mean I wasn't going to be okay. Or even happy," Lina. —Love & Gelato