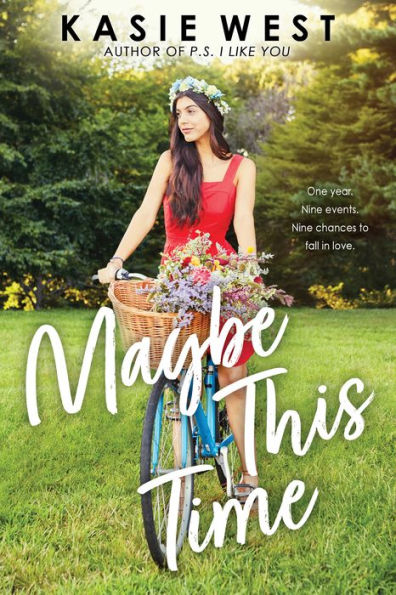 Buy This Book
---
---
"Lately, I'd realized something in all my realizing—the city wasn't going to turn me into the sophisticated person that I had always thought would emerge once I was there. Who I was, who I was going to be, depended on me, not where I lived," Sofie. –Maybe This Time
Maybe This Time
by Kasie West
AR Test, Diverse Characters
At A Glance
Interest Level

12+
Entertainment
Score
Reading Level
4.1
One year. Nine events. Nine chances to . . . fall in love?
Weddings. Funerals. Barbecues. New Year's Eve parties. Name the occasion, and Sophie Evans will be there. Well, she has to be there. Sophie works for the local florist, so she can be found at every big event in her small hometown, arranging bouquets and managing family drama.
Enter Andrew Hart. The son of the fancy new chef in town, Andrew is suddenly required to attend all the same events as Sophie. Andrew is entitled, arrogant, and preppy. Sophie just wants to get her job done and finish up her sketches so she can apply to design school. But every time she turns around, there's Andrew, getting in her way and making her life more complicated. Until one day she wonders if maybe complicated isn't so bad after all . . .
Told from Sofie's point of view, the reader comes to understand why Sofie is focused on getting out of her small town. However, Sofie's obsession with moving to New York has made her judgmental, snobbish, and self-centered. When Sofie meets Andrew, she automatically dislikes him and often says things just to irritate him. Sofie ends up falling in love with Andrew, which comes as no surprise. The change from dislike, to friendship, to love is very natural. Instead of instantly falling in love, the two slowly learn about each other, which allows their feelings to change.
Maybe This Time doesn't just focus on the romance. The story also hits on difficulties with parents, misunderstandings with friends, and the dynamics of a small town. Even though Sofie often is snarky, her sweet side also comes out in unexpected places. Sofie's little brother is one of the highlights of the story, and Sofie's love for him is apparent.
Maybe This Time will give readers insight into small-town life. The story progresses at a steady pace and has many interesting characters. In the end, Sofie realizes that she actually loves her small town and even though she does plan to leave, she will always come back. The sweet romance touches on friendship, ambition, trust, and dreams without getting bogged down with a message. Readers looking for an easy-to-read romance will enjoy Maybe This Time.
Sexual Content
When Sofie hurts her foot, Andrew "squatted down, his hand brushing along my calf until it reached my ankle. Tingles spread up my leg all the way to my stomach. My cheeks went hot, and I leaned my head back against the mirror to try to keep that fact to myself. He wasn't allowed to have this kind of effect on me."
While walking by a car, Sofie sees a boy and a girl "in the passenger seat, and they were kissing."
When Sofie and Andrew were arguing, Sofie's "body seemed to be on autopilot. I leaned forward and pressed an angry kiss to his lips. . . Then all at once his free hand moved to the back of my neck. . . He tilted his head, deepening our kiss." The kiss is described over ½ a page.
While serving at a dinner, a drunk man dropped a fork. When Sofie went to pick it up, she "felt a hand brush [her] leg. The man gave me a creepy smile and I stood. I pointed his own fork at him. 'Please keep your hands to yourself.'"
Sofie doesn't want to think about "a certain hot day by a certain shed kissing a certain boy whose mouth tasted like cherries."
At a New Year's party, Sofie's friend says, "In fact, I'm going to find myself a boy to kiss at midnight tonight. I don't care who." Later Sofie's friend says, "He was a midnight kiss. . . Don't try to tie me down to someone I kissed at midnight."
During a New Year's party, Andrew kisses Sofie. Sofie thinks, "He tasted like heaven."
Andrew and Sofie kiss several times. Once he tells Sofie, "You're beautiful." Then, "his lips brushed mine softly."
Violence
Sofie's brother is afraid of firecrackers because "Momma had a party in the backyard. . . Some guys started shooting their guns into the sky and my window got broke and a piece of glass hit my arm and I thought I was shot."
Drugs and Alcohol
While Sofie was at a wedding, she stepped on the "amber colored glass of a broken beer bottle."
During a eulogy, the pastor talked about how the man "had a problem with alcohol when he was younger."
While serving at a dinner, some of the people drink wine.
At Thanksgiving dinner, Sofie's mom says, "Point me to the wine."
Language
Holy crap is used twice.
Crap is used five times.
Supernatural
Sofie had a short conversation about her belief in an afterlife. She says, "I believe in an afterlife . . . I'm not sure exactly what it will consist of, but I believe we all have a soul, something that makes us who we are. When my gran died, I remember looking at her body and knowing something was missing, that she was no longer her."
---
"Lately, I'd realized something in all my realizing—the city wasn't going to turn me into the sophisticated person that I had always thought would emerge once I was there. Who I was, who I was going to be, depended on me, not where I lived," Sofie. –Maybe This Time