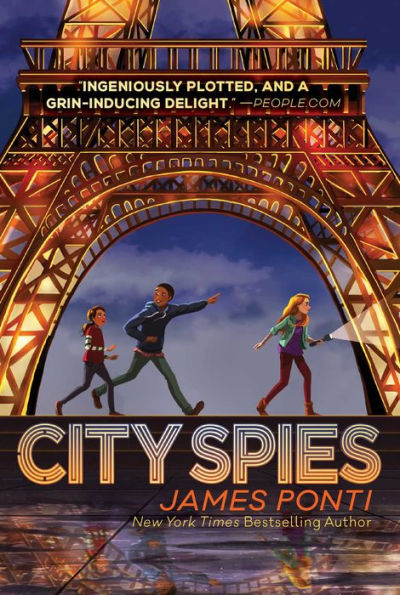 Buy This Book
---
---
"But you don't have to be part of a group to understand that they're being mistreated. Justice doesn't require a membership card. Just a sense of right and wrong," Sydney. –City Spies
City Spies #1
by James Ponti 
AR Test, Diverse Characters
At A Glance
Interest Level

8+     
Entertainment
Score
Reading Level
5.6
Sara Martinez is a hacker. She recently broke into the New York City foster care system to expose her foster parents as cheats and lawbreakers. However, instead of being hailed as a hero, Sara finds herself facing years in a juvenile detention facility and banned from using computers for the same stretch of time. Enter Mother, a British spy who not only gets Sara released from jail but also offers her a chance to make a home for herself within a secret MI6 agency.
Operating out of a base in Scotland, the City Spies are five kids from various parts of the world. When they're not attending the local boarding school, they're honing their unique skills, such as sleight of hand, breaking and entering, observation, and explosives. These skills allow them to go places in the world of espionage where adults can't.
Before she knows what she's doing, Sara is heading to Paris for an international youth summit, hacking into a rival school's computer to prevent them from winning a million euros, dangling thirty feet off the side of a building, and trying to stop a villain…all while navigating the complex dynamics of her new team. No one said saving the world was easy.
City Spies is an action-packed book that delves into the world of spies. Even though the story focuses on Sara, there are multiple interesting and well-developed characters that add depth to the story. One such character, a male spy named Mother, recruits Sara. Mother's complicated past adds danger to the story as well as a touch of humor. Mother uses memorable sayings to help the kids remember spy skills. One is, "You don't need any hocus-pocus. All you need to do is focus."
The story includes many flashbacks that allow the reader to see how each person became part of the team and what their special skills are. While the characters add interest and conflict, the fast-paced plot keeps the readers guessing until the very end. The conclusion ends abruptly; the ending is logical but doesn't wrap up all of the story's threads. Instead, the conclusion leaves readers wondering what will happen in the next book, City Spies Golden Gate.
Anyone who loves a good spy book will enjoy City Spies because of its blend of action, mystery, and wonderfully complex characters. Even though the plot twists and turns in interesting directions, the main threads are easy to follow. Like all spy books, people die and are injured. The descriptions of death and injury are mostly told in the past tense without adding gory descriptions; however, this aspect of the story may upset younger readers. Fans of more mature mysteries such as the Theodore Boone Series by John Grisham will find City Spies an equally entertaining story.
Sexual Content
Violence
When Sara was put in a jail cell, other girls start bullying her. Emily stood up for Sara. "With lightning speed, she jabbed her thumbs deep into the sides of the larger girl's rib cage, making her gasp for air and stagger backward. . . Emily reached over and carefully guided the other girl back to the bench, making sure she didn't fall."
On an undercover operation, Mother was betrayed by his wife. Mother's "hands were tied behind his back, his feet were wrapped together with wire, and a rag had been forced into his mouth so he couldn't scream for help. . . Each breath filled his lungs with smoke and brought him closer to death." With help, Mother is able to escape.
While in boarding school, one of the students caused an explosion that destroyed a statue of the school's founder. "The head had apparently been blown off in the explosion and now sat upside down in a nearby flower bed. There was still some residual smoke emanating from Mrs. Hobart's neck."
Two undercover agents are killed. "It was two days until their bodies were discovered floating in the Seine."
Sara's teammate Rio talks about a suspect. ". . . Carmichael was severely injured in an explosion when he tried to use dynamite to blow up a bulldozer at a logging site." He died from his injuries.
Sara runs away from a bad guy. She tries to enter a secret passageway, but the man follows. The man "took another step, and just as he was about to reach for her, the smile disappeared and his substantial body crumbled to the floor, landing face-first with a loud thump." Someone shot the man with a tranquilizer gun.
 Drugs and Alcohol
While breaking into her old foster home, Sara worries that "Leonard is sitting in his recliner watching television and drinking beer."
Language
Bloody is used four times. For example, when Sara tricks some of the agents, someone says, "That's bloody brilliant."
When a girl tries out for the school play, one of the teachers says, "Maybe if you had fewer desserts you'd be more princess and less frog."
Someone says un-freaking-believable.
Supernatural
Spiritual Content
---
"But you don't have to be part of a group to understand that they're being mistreated. Justice doesn't require a membership card. Just a sense of right and wrong," Sydney. –City Spies