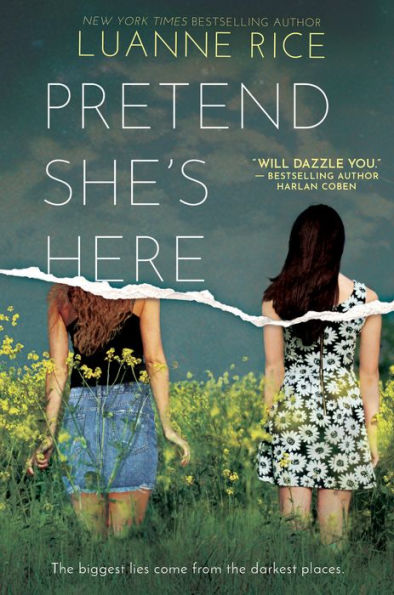 Buy This Book
---
---
"I was becoming like a dog so used to being beaten its owner had only to raise a hand, a rolled-up newspaper, to send it cowering in the corner," Emily – Pretend She's Here
Pretend She's Here
by Luanne Rice
AR Test
At A Glance
Interest Level

12+
Entertainment
Score
Reading Level
4.7
Emily can't believe that her best friend Lizzie is gone. Every day she misses Lizzie now that she's dead and her family has moved away. When Lizzy's parents and her sister come back to town to visit Lizzie's grave, Emily is happy to see them. Emily thinks that they are the only people who can understand her pain.
Emily doesn't think twice about getting into the vehicle with them. After all, they are her second family. But soon, Emily realizes that Lizzie's parents aren't in town for a quick visit. Instead, they have come on a desperate attempt to bring Lizzie back to life. Soon Emily is trapped by the desperate parents, and she's afraid there is no escape.
Pretend She's Here is a unique story that has a major creep factor to keep the pages turning. The story focuses on Emily, who is kidnapped at the beginning of the book. Much of the story is told through Emily's memory, which unfortunately eliminates much of the suspense. Emily's large Catholic family is difficult to keep track of, and the many flashbacks of the seven siblings become confusing. There are simply too many characters to keep track of and many of them do not have a distinct personality.
Lizzie's mom, Mrs. Porter, clearly wants to turn Emily into a replacement for Lizzie. The fact that Mrs. Porter's family goes along with the plot allows the reader to see how desperate Mrs. Porter has become. However, Mr. Porter fades into the background, and readers will miss seeing how he fits into the family dynamic. The ending of the story is also a bit frustrating because Emily has so many chances to tell people who she really is, and yet she stays silent. At one point, she faints and is taken to the doctor, who sees many clues that Emily is in a desperate situation, but the doctor doesn't act on her suspicions. Even though the author manages to make this unlikely scenario with the doctor believable, the ending of the book stretches the imagination too far.
Pretend She's Here isn't just a frightening kidnapping story; it also has themes of alcoholism, grief, friendship, and the power of forgiveness. While some readers may enjoy the kidnapping story, others may be frightened by it, especially because Emily is taken by someone who she considered her second family. Readers looking for a frightening story that examines the desperation that grief can cause will enjoy Pretend She's Here. However, readers who are easily frightened should leave this book on the shelf.
Sexual Content
Emily's friend says that she sees "stars" when she kisses her boyfriend.
Emily thinks back to her sister who would go up to the church steeple with her boyfriend "to kiss."
Emily thinks about Casey and imagines "the feeling of his lips on mine."
While at school, Emily sees Casey, and "all I wanted was for him to kiss me right there, that exact moment."
While sledding, Emily and Casey's sled crashes. They started laughing. "Then all at once the laughter stopped, I looked into his eyes, and he kissed me. The world fell out from under me, and I was floating in space, held up by Casey's arms. . . His lips were soft and the kiss was hot, and I forgot I had a body and a life—and I was part of Casey and he was part of me."
Violence
Emily is kidnapped and her hands are bound behind her back. She tries to escape. Emily "crouched as if about to bar, then used my legs as springs and smashed into Mrs. Porter, knocking her down, making her cry out. I turned and ran as fast as I could into the trees."
In order to get Emily to behave, Mrs. Porter videotapes herself walking with Emily's mom. Emily sees, "Mrs. Porter's red plaid jacket and then, in her other hand, a knife with a thick, sharp silver blade. She made a jabbing motion." After she watches the video, Emily "slapped her in the face as hard as I could, fumbled for the phone. Cloe (Mrs. Porter's daughter) charged at me, clawed the phone out of my hand. We kept fighting for it, but then she shoved me."
Emily sees her family and tries to get out of the car, but "Mrs. Porter wriggled between the two front seats and pulled my hair so hard my head smashed the headrest. She slapped my face. . . Mrs. Porter had now wriggled her way into the back seat beside me. Fingers still tangled in my hair, she tightened her grip, shaking my head, making every nerve in my scalp scream with pain." Emily stops struggling when Mrs. Porter tells her, "I'll kill your mother here and now."
Mrs. Porter stops Emily from leaving. "I started to jump up. But she clawed my wrist, nails digging into my skin, pulling me back down. . . Then I saw the other hand. Her fingers were closed around the knife with the silver blade. . ." Mrs. Porter tries to kill Emily, but Emily "fought her. I hit her as hard as I could, heard my fist crack her cheekbone. I tried to kick her, but she'd leapt up from the bed, gripping my wrist, and my foot missed. She was waving the knife, stabbing the air, but I kept ducking, trying to pull away." Mrs. Porter stabs Emily, who is rushed to the hospital in critical condition.
Drugs and Alcohol
Someone kidnaps Emily and gives her drugs so she will sleep. "A bottle clinked. I turned my head, saw her lift a small vial in front of her face, insert a syringe into the rubber cap to withdraw liquid, and lightly pump the plunger so a tiny clear stream squirted into the air. . . I felt the needle prick, then a slow ache in my bicep. Almost instantly, I felt light-headed." Emily falls asleep.
Emily's mother is an alcoholic, and Emily thinks back to a time when her mother missed her play because she was drunk. Emily's mother, "had been sober over a year now. Since the last horrible fight that had sent her to rehab. . ." Emily thinks about her mom not being at the play, and when she got home, "I found my mother passed out in bed. The fumes left no doubt that there'd been alcohol involved."
Casey's mom was prescribed oxycodone. She became addicted and died of an overdose. Casey says, "One day she took too many. She never woke up."
A doctor gives Mrs. Porter a prescription for Xanax.
While Emily is in the hospital, she is given Morphine which puts her in a "sick, sleepy twilight state." She is also given opioids.
Language
Oh god is used as an exclamation twice; oh my God and OMG are used as an exclamation once.
Damn is used once.
Supernatural
Spiritual Content
Emily's family is Catholic and attends church. Emily thinks about all of her siblings' names and how they were "Catholic to the max. My mom had gone to St. Joseph's College; my dad had gone to Holy Cross." She and her siblings were given saint's names and were baptized. Emily thinks, "even though we skipped Mass a lot, we did our best. We believed in the sacraments and had all made our first communion and confirmations."
Emily's mother says, "By the grace of God, I haven't picked up a drink since."
Casey, who was blind, tells Emily about his mother. ". . . She never stopped hoping I'd be able to see better someday. . .I had the best doctors, but her real faith was in St. Anthony."
When Emily is in the hospital, she thinks about her mother. "I prayed you wouldn't drink. I just wanted everything to be okay."
While Emily was missing her mother, she "tried to pray, but I felt there was no one listening. I couldn't hear God talking back to me. The priest from All Souls Church came, but I told your father not to let him in."
---
"I was becoming like a dog so used to being beaten its owner had only to raise a hand, a rolled-up newspaper, to send it cowering in the corner," Emily – Pretend She's Here