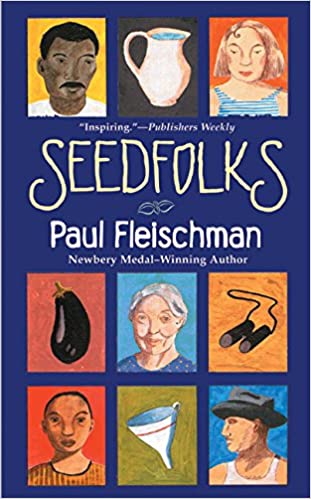 Buy This Book
---
---
"There's plenty about my life I can't change. Can't bring the dead back to life on this earth. Can't make the world loving and kind. Can't change myself into a millionaire. But a patch of ground in this trashy lot—I can change that," Wendell. –Seedfolks
Seedfolks
by Paul Fleischman
AR Test, Must Read
At A Glance
Interest Level

13+
Entertainment
Score
Reading Level
4.3
In a neglected and unkempt empty lot in a Cleveland neighborhood, a young Vietnamese girl named Kim plants a seed to honor her dead father. Although her gardening was meant to be a secret, her actions are detected by a curious neighbor, and Kim's small seed ignites a change throughout the neighborhood; soon the community strives to revitalize the lot and transform it into a beautiful garden. Neighbors from all sorts of backgrounds come together to grow things, sharing gardening tips and growing closer as a community.
Seedfolks is a heartwarming story that demonstrates the power of simple actions, and how change is possible. Each chapter follows the perspective of a different neighbor with a unique background and a new story to tell. For example, Gonzalo watches his Tío plant seeds and feels closer to the earth as he remembers life in Guatemala. Virgil's father from Haiti wants to grow lettuce for money. And Sam, although too old to garden himself, talks to his neighbors as they grow their fruits, vegetables, and flowers and unites the community through conversation.
Ultimately, Seedfolks is a story that celebrates diversity. Although the neighbors originally use the garden separately without communicating, they eventually begin to help one another grow things and learn from each other's similarities and differences. Even when the winter comes, they have the promise of the garden to bring them back together again.
Although the garden is at the center of the book, the real story comes from the lives of the people using this revitalized space. Each chapter introduces a brand-new character and includes a black and white sketch to give a sense of who they are. While some characters speak broken English, their perspectives are understandable and personal. There is no coherent plot in the novel as every chapter follows a new perspective, but some of the same characters reappear in the background of other's stories. With this format, the central theme showcases how even small actions, like planting a seed in a vacant lot, can produce big changes that bring people together. In the end, the neighbors that once coexisted separately from one another are united with a common space and goal to grow.
 Sexual Content
Violence
In the past, Wendell's boy was "shot dead like a dog in the street."
Gonzalo explains it isn't safe to sit outside or "some gang driving by might use you for target practice."
Sae Young was robbed and assaulted at her dry-cleaning store. The thief had a gun and "he take out money, then push me [Sae Young] down. He yelling at me. Very bad words. Then he kick me. Break cheekbone. Then he kick me again, head hit hard against wall and I go to sleep."
Amir hears a woman scream because "a man with a knife had taken her purse."
Drugs and Alcohol
Before the garden, there were "men with no work drinking from nine to five instead, down there in the lot."
Sam hires a young boy to plant his garden. The boy "wanted to grow marijuana, to sell." Instead, they agree to plant pumpkins.
 Language
Supernatural
Spiritual Content
Sam calls the garden "a small Garden of Eden."
After visiting the garden, Wendell is reminded of the Bible verse, "And a little child shall lead them."
by Elena Brown
---
"There's plenty about my life I can't change. Can't bring the dead back to life on this earth. Can't make the world loving and kind. Can't change myself into a millionaire. But a patch of ground in this trashy lot—I can change that," Wendell. –Seedfolks