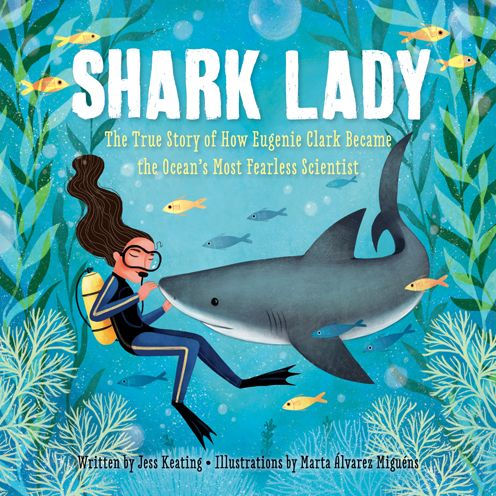 Buy This Book
---
---
"Sharks were not mindless killers. Sharks were beautiful. Sharks were smart. They deserved to be studied. . . " – Shark Lady
Shark Lady: The True Story of How Eugenie Clark Became the Ocean's Most Fearless Scientist
by Jess Keating
AR Test, Picture Book, Strong Female Character
At A Glance
Interest Level

4 - 8
Entertainment
Score
Reading Level
3.9
Most people think sharks are scary monsters. But when Eugenie saw a shark, she thought they were beautiful. She dreamed of growing up and studying sharks. She wanted to show others how amazing sharks are. Discover how Eugenie became known as the Shark Lady.
Shark Lady follows Eugenie's progress from a small child dreaming of sharks to a grown woman who made fantastic discoveries. Each page contains beautifully colored illustrations that bring the underwater world of sharks to life. Several of the pages have pictures of fish, with both their scientific name and their common name.
Even though some people believed Eugenie should be a secretary or a housewife, Eugenie never gave up on her dream. The story does not overlook the years of study and the hard work that Eugenie put into getting an education before she "finally dove into the open ocean." Through Eugenie's life experiences, readers will learn that "we must never let the world tell us what we can and can't do. It especially can't tell us how brave we will choose to be."
At the conclusion of the story, there are fun facts about sharks and an illustrated timeline of Eugenie Clark's life. The picture book Shark Lady will appeal to any reader who wants to learn about sea life. The many illustrations and short sentences make Shark Lady the perfect book to read aloud. The positive, true-life story of Eugenie will inspire children to never give up on their dreams.
Sexual Content
Violence
Drugs and Alcohol
Language
Supernatural
Spiritual Content
---
"Sharks were not mindless killers. Sharks were beautiful. Sharks were smart. They deserved to be studied. . . " – Shark Lady