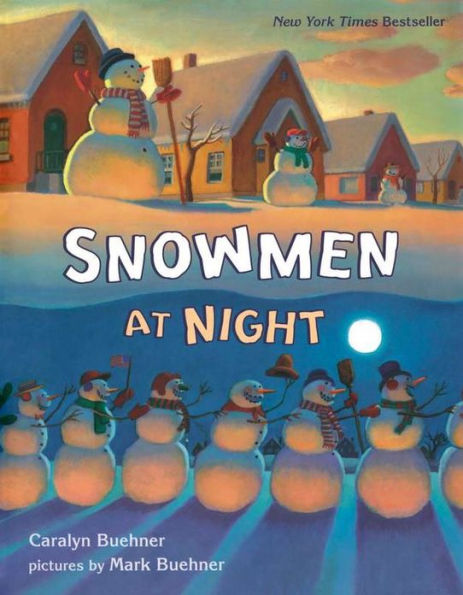 Buy This Book
Buy This Series
---
---
"So if your snowman's grin is crooked, or he's lost a little height, you'll know he's just been doing what snowmen do at night!" –Snowmen At Night
Snowmen At Night
by Caralyn Buehner
AR Test, Picture Book
At A Glance
Interest Level

4 - 7
Entertainment
Score
Reading Level
3.0
Have you ever wondered about the secret life of a snowman? Maybe one morning his grin is a little crooked, or his tree-branch arms have drooped, and you've thought. . . What do snowmen do at night?
Now is your chance to marvel at their magical frosty adventures, as roly-poly snowmen slide away to the park for an evening of wintertime merrymaking. Once the sun goes down, let the snowman fun begin! And just to add to the wintertime mystery, Mark Buehner has hidden the following in his paintings: a cat, a rabbit, a Santa face, and a Tyrannosaur Rex.
Snowmen At Night is a simple story about the fun snowmen have when everyone is asleep. Told in rhyme with entertaining imagery, readers will enjoy seeing snowmen sipping hot coca, skating on a frozen pond, and having a snowball fight. Most pages have one sentence, which makes Snowman At Night a wonderful read-aloud bedtime story. To add to the story's appeal, the text is not always linear; it occasionally swoops along with the snowmen.
Even though Snowman At Night is a picture book, it is intended to be read aloud to a child, rather than for the child to read it for the first time independently. The story's illustrations are bright, colorful, and the snowmen often look like they are ready to jump off the page. To add to the fun, the reader can search for hidden images within the illustrations. Snowman At Night is a fabulously fun story that will keep its appeal year after year. Grab a hot chocolate, snuggle up with a little one, and let Snowman At Night show you what fun winter can be. Readers who want to add more winter fun should add A Snowy Nap by Jan Brett to their reading list.
Sexual Content
Violence
Drugs and Alcohol
Language
Supernatural
Spiritual Content
---
"So if your snowman's grin is crooked, or he's lost a little height, you'll know he's just been doing what snowmen do at night!" –Snowmen At Night