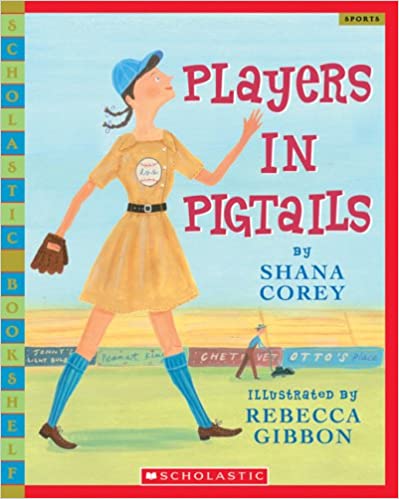 Buy This Book
---
---
"What good is baseball to girls?" blared the newspaper headlines. The league managers heard the talk, and their stomachs started to twitch. They knew the girls were ready for baseball but maybe the country wasn't quite ready for the girls. –Players in Pigtails
Players in Pigtails
by Shana Corey
Picture Book
At A Glance
Interest Level

5—8
Entertainment
Score
Reading Level
3.3
Did you know that one of America's favorite songs, "Take Me Out to the Ball Game," was written about a girl? And that in the 1940s girls all across America were crazy for our country's favorite game?
These little known facts inspired Shana Corey to imagine a story about how one determined girl made her way to the big leagues & found a sisterhood of players in pigtails. With the same exuberant spirit that fueled the formation of the All American Girls Professional Baseball League, Players in Pigtails celebrates these brave girls' love of the game & the league they called their own.
Players in Pigtails begins with Katie Casey, who "wasn't good at being a girl." The story explains the 1950s view on women in a way that is both relatable and understandable. In order to play baseball, girls had to attend charm school and wear dresses as uniforms. Despite society's views about girls and baseball, the players in the All American Girls Professional Baseball League showed that they could play baseball. During the first game, "no one was asking what good baseball was to a girl. They were all too busy talking about how good girls were for baseball."
The bright full-page illustrations reflect the clothing and culture of the 1950s. However, some of the illustrations use humor to show Katie Casey's plight. For example, the pictures show how Katie Casey couldn't knit and her dancing was horrendous. Even though Players in Pigtails is a picture book, it is intended to be read aloud instead of having the child read it independently. Each page has 2 to 4 sentences and many of them are complex. In addition to needing help reading, young readers may also need help understanding societies' views on women. Younger readers may have a difficult time listening to the entire story because of the text-heavy pages.
Younger readers may wonder why girls had to learn how to drink out of a teacup and have good posture in order to play baseball. However, Players in Pigtails shows how women overcame obstacles to play the game they loved. The charming story will encourage readers to chase their dreams even when they may seem impossible. Anyone who loves baseball should read Players in Pigtails because of its historical value. Nevertheless, if you're looking for an encouraging book to read to your baseball-loving child, Players in Pigtails is a must read. Readers may also want to check out Catching the Moon: The Story of a Young Girl's Baseball Dream by Crystal Hubbard and Baseball Saved Us by Ken Mochizuki which are wonderful and motivational baseball picture books.
Sexual Content
Violence
 Drugs and Alcohol
Language
Supernatural
Spiritual Content
---
"What good is baseball to girls?" blared the newspaper headlines. The league managers heard the talk, and their stomachs started to twitch. They knew the girls were ready for baseball but maybe the country wasn't quite ready for the girls. –Players in Pigtails