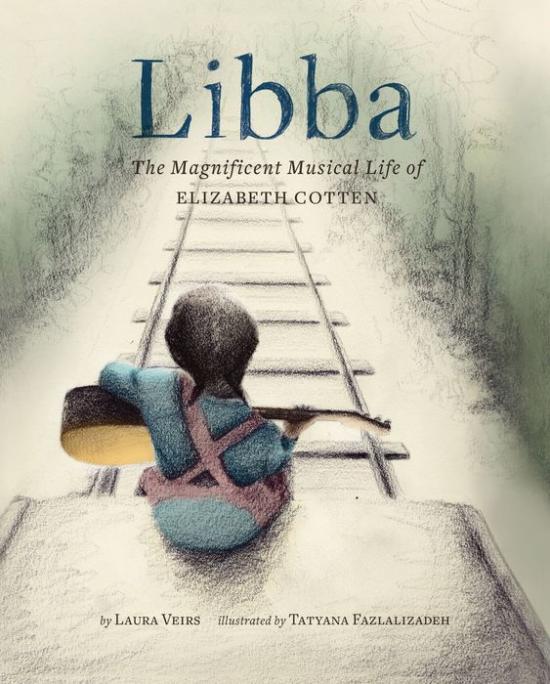 Buy This Book
---
---
"The Seegers believed in Libba and helped spread the word about her music. But it was Libba's perseverance, her love of music, and her belief in herself that gave the world her voice." –Libba  
Libba: The Magnificent Musical Life of Elizabeth Cotten
by Laura Veirs 
AR Test, Picture Book
At A Glance
Interest Level

5 – 8
Entertainment
Score
Reading Level
3.5
Elizabeth Cotten was only a little girl when she picked up a guitar for the first time. It wasn't hers (it was her big brother's), and it wasn't strung right for her (she was left-handed). But she flipped that guitar upside down and backward and taught herself how to play it anyway. By the age of eleven, she'd written "Freight Train," one of the most famous folk songs of the twentieth century. And by the end of her life, people everywhere—from the sunny beaches of California to the rolling hills of England—knew her music.
Libba's story, which conveys her love of music, is both beautiful and motivational. As a child, "Libba Cotton heard music everywhere. She heard it in the river when she brought in water for her mother. She heard it in the ax when she chopped wood kindling." Libba grew up in a poor neighborhood in the segregated South, but she still found the time and the scarce resources to teach herself how to play the guitar. To buy herself that guitar, she swept floors, picked vegetables, and set the table to earn money. Readers will admire Libba's hard work and perseverance.
As Libba became older, she stopped playing music to work and care for her family. It wasn't until Libba was in her sixties that she began to record and tour through the United States and Europe. Her story shows that the true beauty of music has no age. "Libba believed that people could accomplish anything at any age." Even though Libba is known for her music, the story also focuses on her kind and caring personality.
Libba's story comes to life in muted illustrations that show her day-to-day life. Even though Libba is a picture book, the story is intended to be read aloud to a child, rather than for the child to read it for the first time independently. Each page has 3 to 7 sentences and some of the sentences are complex. The book repeats part of Libba's most famous song "Freight Train."
While Libba's story will appeal to music lovers, it is also an important story to read because it highlights the importance of never giving up on a dream. Despite growing up poor, Libba's positive attitude carries her through life. Libba's story teaches young readers that dreams can come true with a good mix of work and dedication. If you're looking for another motivational biographical picture book, add Counting on Katherine by Helaine Becker to your must-read list.
Sexual Content
Violence
 Drugs and Alcohol
Language
Dang is used four times. For example, when Libba broke a guitar string, her brother said, "Dang. She's done it again."
Supernatural
Spiritual Content
The author's note explains that "the pastor at [Libba's] church urged her to give up playing guitar, saying it was 'the Devil's music.'"
---
"The Seegers believed in Libba and helped spread the word about her music. But it was Libba's perseverance, her love of music, and her belief in herself that gave the world her voice." –Libba