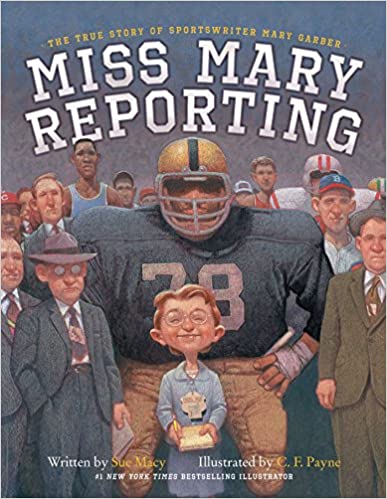 Buy This Book
---
---
"That's Miss Mary Garber," one boy said at a soapbox derby. "And she doesn't care who you are, or where you're from, or what you are. If you do something, she's going to write about you." –Miss Mary Reporting  
Miss Mary Reporting: The True Story of Sportswriter Mary Garber 
by Sue Macy
AR Test
At A Glance
Interest Level

5—8
Entertainment
Score
Reading Level
5.2
"Press Box: Women and children not admitted." So read the press pass that Mary Garber had to wear as a reporter at sporting events. It was embarrassing, even insulting, but in the 1940s, sports—and sports reporting—was a man's world.
Mary didn't let that stop her. She never let anything stop her really. As a kid, she played quarterback for her local football team. Later, as a reporter, she dug in her heels and built up her own sports beat. For close to fifty years, Mary shined the spotlight on local heroes whose efforts might otherwise have gone unnoticed. "'That's Miss Mary Garber,' one boy said at a soapbox derby. 'And she doesn't care who you are, or where you're from, or what you are. If you do something, she's going to write about you.'"
This is the story of a woman who pursued her dream and changed the world.
If you're looking for an inspirational story that will encourage young readers to follow their dreams, then Miss Mary Reporting is the book for you. While the story focuses on the hard work and dedication that made Miss Mary an excellent reporter, the story also shows how others helped Miss Mary along the way. In addition, the book briefly mentions the segregated Negro leagues as well as Jackie Robinson and the discrimination he faced.
While Miss Mary's story is inspirational, younger readers may have a difficult time sitting through a reading of the book because of the text-heavy pages. Each page has four to seven complex sentences and the text includes difficult vocabulary. The full-page illustrations use muted tones that reflect the serious topic of discrimination. The illustrations will give readers a peek into the past because it shows the clothing, hairstyles, and other aspects of the time period. Readers who want to learn more will find an author's note, a timeline, and a list of more resources at the end of the book.
Miss Mary's biography will inspire readers and show how one woman impacted the world of sports. However, the heavy topic makes the picture book more suited to older readers. While Miss Mary's story is interesting, it's not necessarily entertaining; the book is best read by those who have an interest in sports and journalism. Readers who would like to learn more about women in sports should also read Catching the Moon: The Story of a Young Girl's Baseball Dream by Crystal Hubbard and She Persisted in Sports by Chelsea Clinton.
Sexual Content
Violence
 Drugs and Alcohol
Language
Supernatural
Spiritual Content
---
"That's Miss Mary Garber," one boy said at a soapbox derby. "And she doesn't care who you are, or where you're from, or what you are. If you do something, she's going to write about you." –Miss Mary Reporting