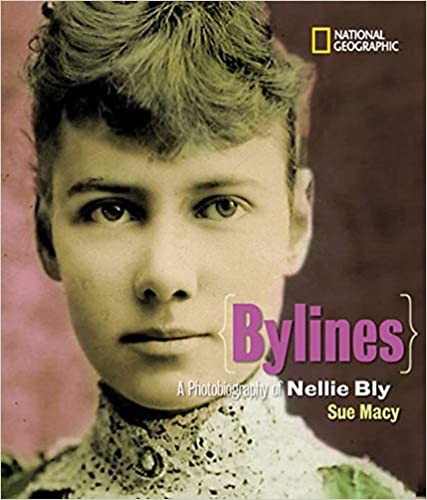 Buy This Book
---
---
"A stick beats more ugliness into a person than it ever beats out," Nellie Bly. –Bylines  
A Photobiography of Nellie Bly
Bylines
by Sue Macy
AR Test, Strong Female Character
At A Glance
Interest Level

10+
Entertainment
Score
Reading Level
7.5
Bylines is the latest title from award-winning biographer Sue Macy. Nellie Bly was a pioneering American journalist who lived by the belief that, "Energy rightly applied and directed will accomplish anything." This credo took her from humble origins in Cochran's Mill, Pennsylvania, a town named after her father, to the most exotic cities around the globe by the time she was 25.
Nellie Bly was born Elizabeth Jane Cochran in 1864, in an age when many women led unassuming lives. Her life would make people sit up and take notice. When she wasn't making history herself, she was writing about others who did. Rarely has anyone left a more detailed record of her place in the world than Nellie Bly. In a very public life, she shared her feelings and opinions through her writing and embraced the struggles of all classes of Americans who were fighting for their rights.
The story of the two decades before and after the turn of the 20th century was her story, and she wrote with a powerful pen. Her "stunt journalism" included getting herself committed to an insane asylum for women and circling the globe in a mere 72 days. She profiled leaders from Susan B. Anthony to Eugene V. Debs, exposed corruption, and offered her readers a travelogue that expanded their horizons, even as it made the world a little smaller. Her words live on even now, and Sue Macy's masterful biography invites young readers into Nellie Bly's America, a country at a time of great growth and social change.
Nellie Bly didn't let circumstances dictate her life. During her time, women were supposed to stay home and take care of the children, the house, and their husbands. Despite this, Nellie became the first female reporter. Not only did she use her position to make a living, but she also refused to only write about fashion and other female appropriate topics. Instead, she put herself in danger in order to investigate an insane asylum and factory workers. Through her writing, Nellie fought for the rights of the less fortunate. For example, she wrote about the plight of widows and unmarried girls. Nellie argued that woman should be able to be bank tellers, train conductors, and other male professions and "they should be paid the same wages as men."
A Photobiography of Nellie Bly uses photographs, drawings, and maps to showcase Nellie's adventures and to give readers an inside look at the time period. Nellie Bly's life is interesting to read about and is a must-read for anyone interested in journalism or equal rights. Throughout her life, Nellie interviewed important people of her time such as Susan B. Anthony, wrote opinions on issues of the day, and even "answered letters from readers on the editorial page, giving advice on marriage, motherhood, and other topics."
The biography uses some difficult vocabulary; however, by using oversized font and large pictures on every two-page spread the text appears in a reader-friendly format. Plus, the captions of the historical pictures add even more interesting facts about the time period. A Photobiography of Nellie Bly is an essential read for anyone researching Nellie Bly, but it also highlights how Nellie's hard work and dedication changed the face of America and had a positive impact on millions of people.
Sexual Content
Violence
After Nellie's father's death, Nellie's mother remarried. "His new family quickly learned that he had a bad temper, particularly when he drank. Ford threatened and sometimes hit his wife, flying into rages at home and in public."
 Drugs and Alcohol
Language
Supernatural
Spiritual Content
---
"A stick beats more ugliness into a person than it ever beats out," Nellie Bly. –Bylines