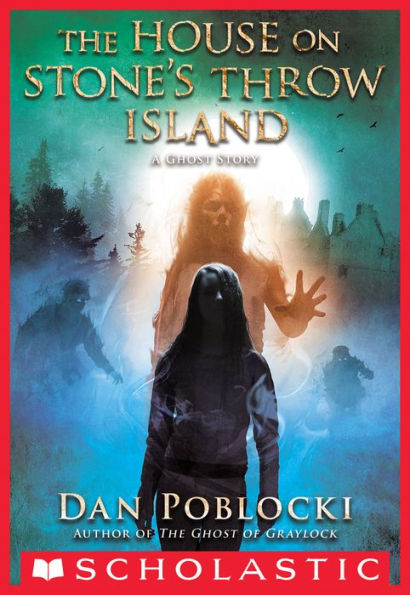 Buy This Book
---
The House on Stone's Throw Island
by Dan Poblocki
AR Test
At A Glance
Interest Level

10+
Entertainment
Score
Reading Level
5.3
Eli isn't happy when he boards the ferry to go to Stone Throw's Island. He's not looking forward to his sister's wedding. Even though groom's sister, Josie, is his age, he doesn't want to meet her.  In fact, Eli can think of a million things he'd rather do than spend the weekend on a remote island.
Josie feels the same; she doesn't want to spend time with her soon-to-be brother-in-law. But when a ghost girl enters her room, Josie decides that Eli might be the best person to help figure out who the ghost is and what she wants. As the two try to figure out the secrets of the island, they soon discover that when the dead want revenge, there is little anyone can do to stop them from getting their ghostly desire.
The House on Stone's Throw Island grabs its readers' attention in the very beginning and captivate them until the end. Poblocki weaves a wonderful mystery using suspense and vivid descriptions to keep readers wanting more.
Though the story deals with the ghost of a World War II German spy, most of the violence is hinted at rather than described in detail. This allows readers to use their imagination to create their own images of what happened. The story is well crafted and the two main characters, Josie and Eli, are compelling. The House on Stone's Throw Island is a perfect book for both older and younger readers who want a good scare.
Sexual Content
Violence
Someone tries to kill Margo while she is asleep. "A hand came down over her face. It covered her nose and her mouth with a sweat-slick grip and squeezed . . . She pushed at the figures' chest, but the attacker managed to slap her hands away before pressing against her face even harder." She hits the person with a lamp and he runs off.
Josie reads a diary entry that describes how a German spy was, "standing over my brother with a rifle.  He used it to strike Frankie in the face."
A possessed wedding guest hits someone across the face.
A ghost explains how he and his friends died. They were locked in a cavern and, "a storm rose up and flooded the cavern. Despite our cries for mercy, the savage siblings allowed the seawater to fill our lungs."
A possessed wedding guest captures Josie. "But Bruno squeezed her tight.  Tighter. So tight, she could no longer move. So tight, she could barely breathe."  Josie, "snapped her head forward as hard as she could, making contact with his sternum . . . She wasn't sure if she had broken something in him or herself." As she tries to escape his grasp, they fall down the stairs and he is knocked unconscious.
The skeletal remains of a German spy try to get Josie and Eli to help him.  "Here was the sallow skin, the collapsed nose, the empty eye sockets." The ghost wants them to give them a wedding guest in exchange for Eli's father.
A U-boat rams the Sea Witch. The Sea Witch crashes, but everyone survives.
Drugs and Alcohol
Language
When discussing WWII, one of the wedding guests says, "Screw Hitler."
Before one of the guest reveals a secret, she says, "I think now is the time to tell it. And I don't give a good-gosh-darn about the repercussions."
When being accused of being negative, one of the guests says, "Negative? Are you freaking kidding me?
Supernatural
Three dead German soldiers from World War II take over the bodies of the wedding guest.  The ghosts want revenge for their deaths.
The ghost explains what happened to him. "Our souls have been trapped here. Trapped until you arrived on this island, Madame Lintel. Your presence woke us up, and we slipped inside the skins of these men."
An old U-boat and a ghost crew come up and claim three of the wedding guest.  "The three reached up, claiming the help that was being offered to them. . .the men climbed aboard the sub and stood with their compatriots, reunited in spirit at long last."
Eli thinks that, "each of their souls must have been cracked just enough to let in the bad spirits. Or maybe it hadn't been anything like that. Maybe Eli had merely been lucky they hadn't crept inside his own head too."
Spiritual Content