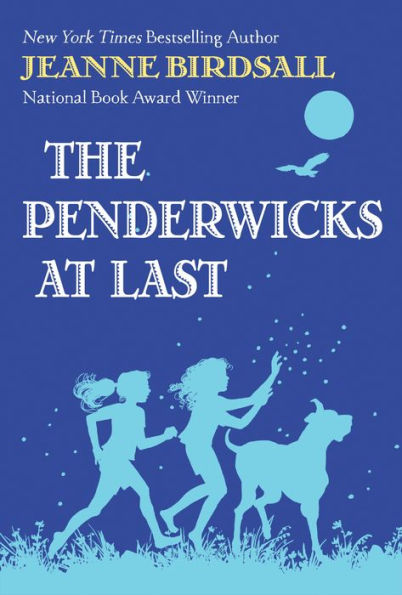 Buy This Book
Buy This Series
---
---
"Good job Lydia, my dancing elf. And I hope I don't have to walk you down the aisle again for another few decades," Mr. Penderwick. —The Penderwicks at Last
The Penderwicks at Last
The Penderwicks Book #5
by Jeanne Birdsall
AR Test
At A Glance
Interest Level

8+
Entertainment
Score
Reading Level
5.5
The Penderwicks are back for the final installment of Jeanne Birdsall's beloved series about family, friendship, and adventure. The entire family is coming together once again for a wedding, and it just so happens to be at their favorite place in the world, the Arundel estate. Lydia, the youngest Penderwick sister, is now eleven years old and is a boundless ball of dancing energy, excited to experience the wonderful place that she has heard so many stories about. New surprises await as the charming family returns to the estate where it all began.
Following the same simple, yet charming style of the first four books, The Penderwicks at Last is a delightful read. However, it is the least interesting of the series. Although it has the trademark humor and wonder that captivated readers from the beginning, this book tends to drag and lose momentum. Curious readers excited to discover the fate of the family that they have grown to love may find that part of the magic has faded.
The best elements of the book include when Lydia interacts with her family, rather than what the majority of the book focuses on–her relationship with her new friend Alice. As Lydia becomes a better person over the course of her stay at the enormous estate, she learns important lessons about kindness, friendship, and familial bonds.
The story revolves around Lydia as she navigates and discovers Arundel for the first time. She begins to understand the secrets of what makes the Berkshire estate so magical to her family, from the gardens to the rolling fields, allowing the reader to feel the wonder and excitement along with her. Since Lydia was only in the last two books of the series, she is less fascinating than her siblings are. Readers willing to overlook this will find it an enjoyable tale of weddings, space alien movies, and new friendships.
Although The Penderwicks at Last can be read as a stand-alone novel, readers will find the story more amusing if they have read the previous books. Younger readers may find the diction difficult and may not be interested in the older characters and their adult problems.
Despite disappointments for long-time fans of the series, Birdsall uses her trademark style to create a story that is still pleasant to read. Mimicking the mood and story arc of Louisa May Alcott's Little Women, The Penderwicks at Last is a feel-good story for readers of all ages.
Sexual Content
Batty has a boyfriend from college named Wesley who is a dedicated art student. "Lydia liked him more than any of Batty's boyfriends from high school. Indeed, he was among her top four or five picks of all her sisters' boyfriends put together."
Jane has distinctive views about love in her life. "She cared only about becoming a great novelist. Everything else was secondary, including love and romance. Those she'd sworn off after a few heartbreaks had used too much of her writing time."
When they were young, Enam promised to marry Lydia when they grew up. When Enam gets a girlfriend when he is older, Lydia "wasn't awfully upset, but was also comforted when Aunt Claire told her that boys–even her own two sons–can be dopes when it comes to love, and then took Lydia out for ice cream and a movie."
Tifton perpetually is getting married, divorced, and remarried.
Alice tells Lydia the story of how her parents fell in love. "Dad met her when they both started teaching . . . and fell in love with her because of how talented she was, but then he had to beat out the math teacher, the gym teacher, and also Mom's boyfriend from college before he could win her heart."
When Lydia is trying to stage a procession rehearsal for the wedding, Rosalind, "sneaked off with Tommy to hide behind the pavilion, where they thought they couldn't be seen." Alice laments that they are kissing again.
Violence
Lydia dislikes a girl in her dance class. Lydia wishes that she could, "do something dramatic about her dislike–shout it to the world or kick Deborah in the shins."
Alice has a conspiracy theory about Mrs. Tifton murdering her husbands in her giant mansion. "She could have poisoned them and used the ax to chop them into pieces. Look right there….I bet that's blood."
In a tragic scene of Ben's sci-fi movie, Alice acts out the part of a dying alien who gets murdered. They shoot this scene several times and Alice is regarded as being very good at it.
Drugs and Alcohol
Language
Jeffrey comes back home to Arundel. "He spotted me at the tunnel and thought, What the heck is that, and do I need to protect my friends from it–"
Supernatural
Arundel is described as a magical place. "Jane had said that the stone pillars were a magical boundary that kept out the real world."
Alice believes that all of Mrs. Tifton's husbands became ghosts after she allegedly killed them. "The husbands could now be ghosts, waiting for their revenge." These ghosts make Lydia reluctant to sleep alone in the mansion.
Spiritual Content
by Morgan Filgas