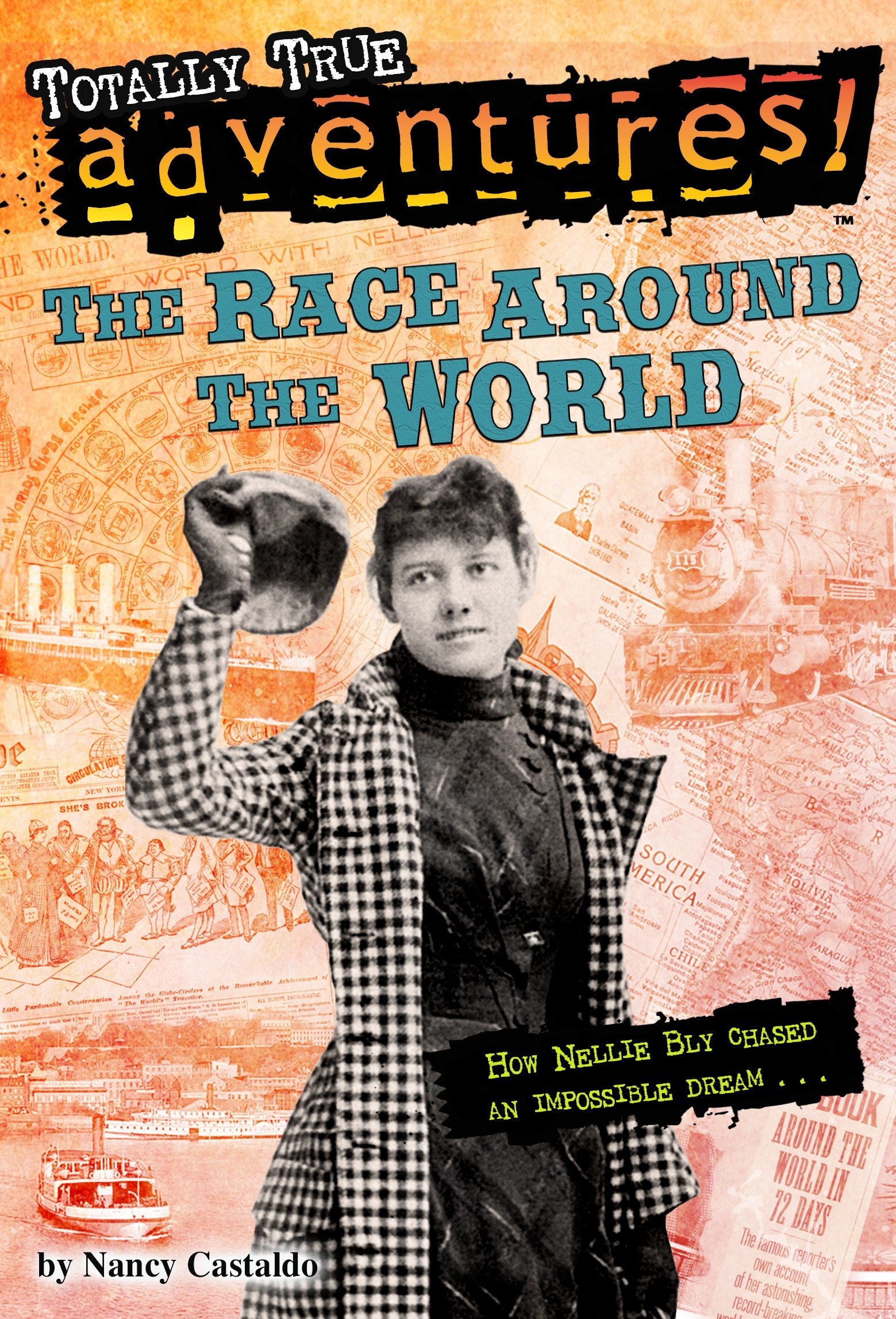 Buy This Book
---
---
"A stick beats more ugliness into a person than it ever beats out," Nellie. –The Race Around the World
The Race Around the World
Totally True Adventures
by Nancy Castaldo
AR Test, Strong Female Character
At A Glance
Interest Level

7+
Entertainment
Score
Reading Level
4.4
When Nellie Bly read Around the World in Eighty Days by Jules Verne, she had an amazing idea. What if she traveled around the world in real life, and did it in less than 80 days? In 1889, people doubted it could be done—especially by a woman. But with one small bag and a sturdy coat, Nellie set out anyway. Soon the whole world was rooting for her. Could she make it back home in time?
Nellie Bly began her life with the name Elizabeth J. Cochran. When her father died, Nellie needed to work to help her family make money. She wanted to be a newspaper reporter, but most people believed that a "woman should stay out of the workplace. . .women should turn their attention to cooking, cleaning, and making a nice home." Nellie believed that she could do anything a man could do, including being a reporter. However, at the time "women did not sign their names to articles. It was considered improper." So, Elizabeth wrote articles with the byline under a man's name: Nellie Bly. Nellie wrote about how hard factory work was for women and how some low jobs were dangerous. But what made Nellie Bly so famous, was her record-breaking trip around the world.
During Nellie Bly's time, her adventures were exciting and newsworthy. However, today's readers will find Nellie Bly's travels mundane. Nellie Bly visits many countries, but nothing exciting happens and the reader will not learn much about each place in which she stops. The Race Around the World is informative and has many interesting facts, but the pacing is slow.
The Race Around the World uses short chapters and easy vocabulary, which makes the book accessible to young, fluent readers. Large black and white illustrations appear every 3 to 7 pages and show some of Nellie Bly's adventures. At the end of the book, there is more information about Nellie and the time period in which she lived.
The Race Around the World would be interesting for readers who want to learn more about news reporters and travel during the 1800s. While the book would be helpful if you are looking to learn, it reads much like a history book. Readers who want a modern, imaginative adventure that revolves around Jules Verne's story, Around the World in 80 Days, should add the Max Tilt Series by Peter Lerangis to their reading list.
Sexual Content
Violence
Men used canes to keep the beggars away.
 Drugs and Alcohol
Language
Supernatural
Spiritual Content
---
"A stick beats more ugliness into a person than it ever beats out," Nellie. –The Race Around the World