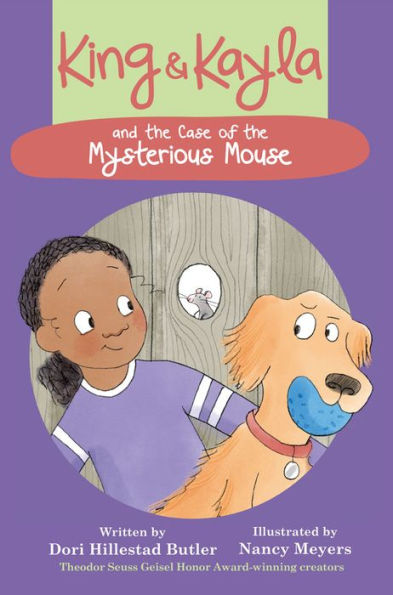 Buy This Book
---
---
"I wag my tail. I love new friends. They're my favorite thing!" King. –King & Kayla and the Case of the Mysterious Mouse    
King & Kayla and the Case of the Mysterious Mouse
King & Kayla
by Dori Hillestad Butler
AR Test, Diverse Characters
At A Glance
Interest Level

7+
Entertainment
Score
Reading Level
1.9
Kayla (a human) and King (a dog) are both detectives. One day, King and Kayla decide to play fetch with their friends, Jullian (a human) and Thor (a dog). When Jullian throws King's ball too hard, it goes over the fence. Jullian goes to look for the ball, but she can't find it. King and Kayla must put together the clues to find out where it went—and who had his ball.
Mystery fans will love Kayla and King who enjoy doing ordinary things like playing fetching, eating grilled cheese sandwiches, and following clues to solve a mystery. King's enthusiasm is contagious and readers will enjoy King as he tries to find out who stole his ball. Thought bubbles appear over King's head with cute pictures that explain what King is thinking. The illustrations add humor to the story. For example, when King thinks about his "stolen" ball, he pictures a cat thief wearing a mask.
As Kayla and King try to solve the mystery of the hidden ball, Kayla makes a list of "what we don't know about this case" and a list of "everything we know about this case." King causes a little havoc as he looks for the answer, but he also makes a new friend. In the end, King is surprised by the unexpected ball thief.
Young readers will love King who thinks that every new thing is his favorite thing. King, like many children, is upset when someone yells at him. The bright illustrations show each character's emotion making it easy for young readers to understand what they feel. The illustrations often have unexpected details, like Thor making friends with a worm.
King & Kayla and the Case of the Mysterious Mouse is perfect for readers transitioning out of picture books and into chapter books. Each page has a large picture that allows the text to be spaced out so younger readers will not get discouraged by the amount of text. The simple, fun plot and interesting characters will keep readers engaged until the very end. Beginning readers who love animals will enjoy the King & Kayla series.
Sexual Content
Violence
Drugs and Alcohol
Language
Supernatural
Spiritual Content
---
"I wag my tail. I love new friends. They're my favorite thing!" King. –King & Kayla and the Case of the Mysterious Mouse