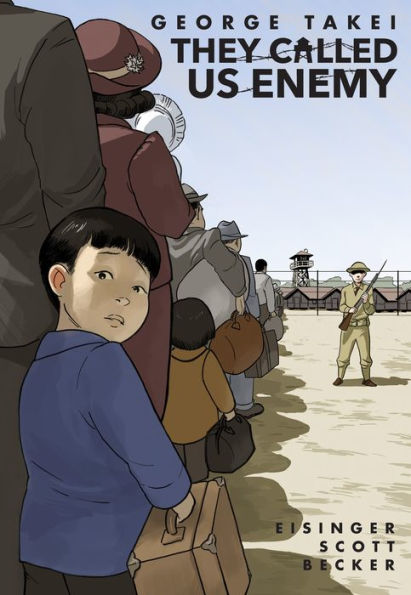 Buy This Book
---
---
"That remains part of the problem – that we don't know the unpleasant aspects of American History and therefore we don't learn the lessons those chapters have to teach us," George Takei. —They Called Us Enemy
They Called Us Enemy
by George Takei
AR Test, Graphic Novel, Must Read
At A Glance
Interest Level

12+
Entertainment
Score
Reading Level
4.6
Following the attack on Pearl Harbor, Japanese Americans are forced into internment camps. While George knows there is a war against the Japanese, he does not understand why he and his family are being forced to leave their home. Unable to grasp the injustices that George, his family, and other Japanese Americans are being forced to endure, George describes his joyful, yet troubled boyhood in two of America's ten internment camps.
As George and his family adjust to life in the internment camp, George cannot help but notice the anguish and anxiety his parents and families around them are experiencing. When will the war end? How long will Japanese Americans suffer under this legalized racism? Will George, his family, and the other 120,000 Japanese Americans in internment camps ever be able to return home?
As he grows older, George angrily questions how his parents and so many other Japanese Americans could have let this happen. George's later successes as an actor, activist, and author force him to reflect not only on his time in the camps but also on his understanding of his parents and their situation.
This heartfelt story highlights the themes of family, sacrifice, and empathy. As readers learn George's story and watch his growth physically and emotionally, they will view all stages of George's life—from blissful childhood ignorance to teenage anger and thoughtful adulthood. In addition, George includes his thoughts on his incarceration. Through simple, captivating images and storytelling, readers are given the chance to grow alongside George as the story progresses.
They Called Us Enemy utilizes compelling visuals and accessible language to engage and educate readers on the difficult and often overlooked subject of Japanese internment. The animated illustrations and comic style make this difficult subject more palatable for young readers while still depicting the tough reality of the characters' situations.
From the eyes of a young George Takei, readers are able to join George in his journey to understanding and coming to terms with his and his family's imprisonment. The combination of George's conversation and a short, accompanied narrative tells not only George's autobiography but the evolution of Japanese sentiment during and following World War II. Overall, this 2020 American Award Winner lives up to the praise. With its engaging historical background and cultural depictions, They Called Us Enemy is a must-read for readers of all backgrounds.
Sexual Content
Violence
When residents become seemingly more radical, George notes the unrest that exists throughout his second camp, Tule Lake. This results in "hostile words quickly erupt[ing] into violence throughout Tule Lake."
As George and his family prepare for Christmas, they hear on the radio that Pearl Harbor has been attacked by the Japanese which would "naturally mean that the President would ask Congress for a declaration of war."
Thousands of volunteers from Hawaii and across internment camps form the 442nd regimental combat team of all American-born-Japanese Americans. George narrates that, "the 442nd suffered over eight hundred causalities."
Drugs and Alcohol
After leaving the internment camp, George and his family live on Skid Row in Los Angeles where they lived among "derelicts and drunkards."
Language
Older boys teach George and his brother the phrase "sakana beach" in order to prank the young boys and upset the guards. The words do not hold a negative meaning in Japanese but are meant to imitate the phrase "son of a bitch."
Before yelling "sakana beach," an older boy warns George to "run like hell" in order to avoid being caught by the angry guards.
While being arrested by a guard, a man yells, "Damn Ketoh," which George's father later explains is an offensive term used against white people. Ketoh translates to "hairy breed."
During a fight between the guards and the internment camp residents, a man yells, "Go to hell ketoh!"
The term "Jap" is used in a derogatory manner by non-Japanese individuals throughout the story.
Supernatural
Spiritual Content
by Katie Ng Ross
---
"That remains part of the problem – that we don't know the unpleasant aspects of American History and therefore we don't learn the lessons those chapters have to teach us," George Takei. —They Called Us Enemy