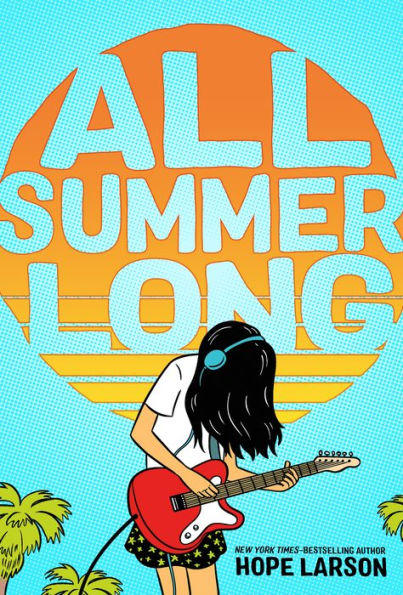 Buy This Book
---
---
"Lots of people spend forever looking for something they care about. Sometimes they never find it. But you already have, and you're doin' it, and you're gonna be great," Davy. –All Summer Long
All Summer Long
Eagle Rock #1
by  Hope Larson
AR Test, Graphic Novel, LGBTQ
At A Glance
Interest Level

10+
Entertainment
Score
Reading Level
2.4
Thirteen-year-old Bina has a long summer ahead of her. She and her best friend, Austin, usually do everything together, but he's off to soccer camp for a month, and he's been acting kind of weird lately anyway. So it's up to Bina to see how much fun she can have on her own.
At first it's a lot of guitar playing, boredom, and bad TV, but things start to look up when she finds an unlikely companion in Austin's older sister, Charlie. They like the same music, and Charlie actually seems to think Bina is cool. But then Austin comes home from camp, and he's acting even weirder than when he left. Can Bina and Austin get back to the way things used to be? Or does growing up mean growing apart?
When Bina starts spending time with Charlie, she is excited that a cool high school student wants to hang out together. But it often feels like Charlie is using her. For example, Charlie needs help putting boxes in the attic, but leaves Bina to do the work alone. At first, Bina is afraid to tell Charlie how she feels, but when Charlie skips out on Bina while babysitting, Bina finally speaks up.
Middle school readers will relate to Bina, who wants to appear cool but is also insecure. Even though none of her friends appreciate music, Bina doesn't let that stop her from playing her guitar. While much of the plot revolves around Bina's summer, the story has glimpses of her family life. One aspect of the plot is Bina's older brother and his husband adopting a baby. While this plotline isn't well developed, Bina is looking forward to being an aunt.
Readers will enjoy the graphic novel's panels, which are black with orange highlights. Each page has eleven or fewer sentences and the story uses simple vocabulary. However, the text is small, which makes some of the words difficult to read. Despite this, the format of All Summer Long will appeal to many readers.
All Summer Long deals with themes of friendship, family, and coming of age. However, the story's plot is not well developed and is not very memorable. Despite this, Mila's experiences will encourage readers to find their own passions.
Sexual Content
Austin runs into a boy from soccer camp. Austin introduces Mila as "my friend." The boy asks "with benefits?"
Austin's teen sister has a boy come over to her house. Austin tells Bina, "That skater guy's been in Charlie's room all afternoon, so maybe I'll get to be a fourteen-year-old uncle."
Austin tells Bina about a girl he met at soccer camp. He says, "Her name's Rosemary. Ro. We met at camp. She's a striker. . . It means she scores a lot." Bina makes a funny face and asks, "Did she score with you?"
Violence
After an argument, Austin and Bina shove each other.
 Drugs and Alcohol
Language
Someone is called a jerk three times. When Bina is upset with her best friend, she thinks he is a jerk.
When Mila loses her house key, she thinks, "Crud! Where'd it go?!"
Freakin' is used once.
Supernatural
Spiritual Content
---
"Lots of people spend forever looking for something they care about. Sometimes they never find it. But you already have, and you're doin' it, and you're gonna be great," Davy. –All Summer Long