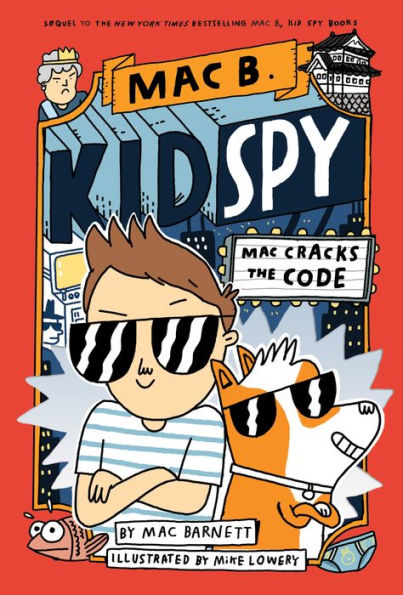 Buy This Book
---
---
"Mac, it is one thing to go about wrecking things in another country, such as France. It is quite another to cause havoc here. That is why I am taking you out of the field and placing you behind a desk," the Queen. –Mac Cracks the Code  
Mac Cracks the Code
Mac B. Kid Spy #4
by Mac Barnett
AR Test
At A Glance
Interest Level

7+
Entertainment
Score
Reading Level
3.7
The Queen of England calls on Mac B. once again! This time, Mac must crack a secret code that has been recovered from a double agent. A series of clues leads Mac to France, to Japan where he comes face-to-face with his arch-nemesis the KGB Man, and to the world headquarters of Nintendo! Is the KGB Man secretly behind all of this? Are Mac's video game skills good enough to face down his enemy at the Video Game World Championships?
Even though the events in Mac Cracks the Code are at times ridiculous, the story incorporates historical and language lessons into the events. The story teaches spy terminology such as cytologist, as well as portmanteau words. There are also world maps that show Mac's travel routes, which helps readers understand where countries are in relation to each other. Readers will also be eager to try to figure out the clues to the mystery.
Mac Cracks the Case will entertain even the most reluctant readers with its fast pace and hilarious events. Short sentences, humorous illustrations, and simple vocabulary will help readers build confidence. Video games play a part in the story's plot, which adds interest for those who like video games. Because several of the characters appear in the previous books, readers will get maximum enjoyment if they read the series in order.
In Mac Cracks the Code, Mac tells his own story with humor and puts a spotlight on the absurd. The conclusion will have readers cheering for Max and groaning when the Queen of England gives Max a gift. The Max B. Kid Spy Series continuously gives readers engaging stories that will have readers laughing out loud. Any reader who enjoys intrigue will want to add the Max B. Kid Spy Series to their reading list.
Sexual Content
Violence
Drugs and Alcohol
Language
The KGB man tells Mac, "You look like a doofus!" Mac uses the same words to describe the KGB man.
Supernatural
Spiritual Content
---
"Mac, it is one thing to go about wrecking things in another country, such as France. It is quite another to cause havoc here. That is why I am taking you out of the field and placing you behind a desk," the Queen. –Mac Cracks the Code