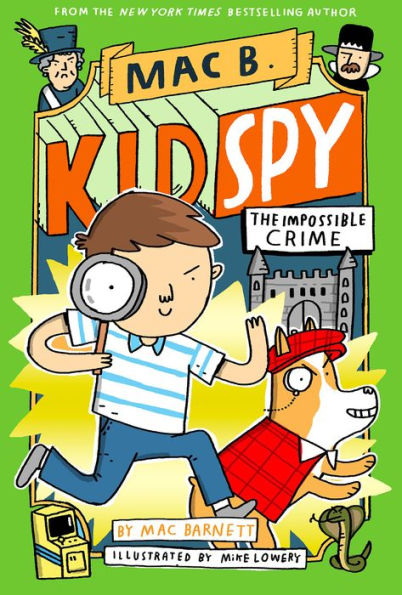 Buy This Book
---
---
"Mac," said the queen, "you are not a detective. You are a secret agent. So stop looking for clues and go sneak into another country to nab a bad guy." —The Impossible Crime
The Impossible Crime
Mac B. Kid Spy #2
by Mac Barnett
AR Test, Good for Reluctant Readers
At A Glance
Interest Level

7+
Entertainment
Score
Reading Level
3.5
Mac is an ordinary kid who likes to play video games. While at the arcade, the Queen of England's corgi appears with a note stating, "pick up the phone." The Queen of England needs Mac's help. Someone is planning on stealing the Crown Jewels. With the help of beefeater Holcroft, Max tries to keep the Crown Jewels safe. But when they disappear from a locked room, Mac must use all of his knowledge to discover not only who did it, but why.
The Impossible Crime uses humor, riddles, and corgis to teach readers about English history. The fast-paced plot has several of the same interesting characters as Mac Undercover, but isn't as outrageously funny as Mac Undercover. However, readers will enjoy the silliness of the story, the dialogue between Mac and the Queen, and the surprise ending. As the story unfolds, readers will learn historical facts, geography, and different meanings of words. Each new fact is integrated into the story in a seamless manner, which makes learning fun.
Mac tells his own story with humor and uses lists and reputation to help readers follow the mystery. The Impossible Crime will entertain even the most reluctant readers for many reasons. Short sentences and simple vocabulary will help readers build confidence. Every page contains large black, green, and orange illustrations that add to the humor of the story. The illustrations and text work together to provide clues, create humor, and keep the reader interested to the very end. The Impossible Crime is a fun, easy-to-read book that is a great choice for any reader. It is also a perfect book for parents to read aloud to their children; the short dialogue is a great opportunity to use different voices for the characters.
Sexual Content
Violence
In 1671, Colonel Blood tried to steal England's crown jewels. When Edward took Colonel Blood to see the jewels, "Colonel Blood threw the cloak over Edwards's head! The men tied up the god Keeper like a sheep in a sack. Then they hit him with mallets. . . Then they stabbed him.'"
Holcroft goes after Mac with an axe. "He turned to me and brandished his axe. . . I backed into a corner of the library as Holcroft slowly came towards me." Mac orders Holcroft to put the axe down and he does.
Drugs and Alcohol
Language
Mac asks a man, "what the heck are you doing?"
Supernatural
Spiritual Content
---
"Mac," said the queen, "you are not a detective. You are a secret agent. So stop looking for clues and go sneak into another country to nab a bad guy." —The Impossible Crime