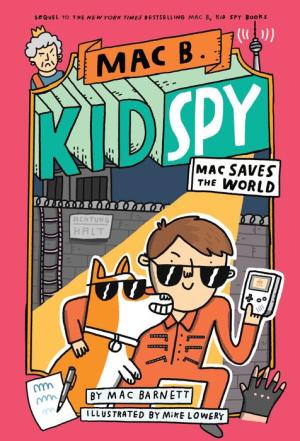 Buy This Book
Buy This Series
---
---
"You did brilliantly! By failing at your mission, you may have saved the world," Queen of England. –Mac Saves the World  
Mac Saves the World
Mac B. Kid Spy #6
by Mac Barnett
AR Test, Good for Reluctant Readers
At A Glance
Interest Level

7+
Entertainment
Score
Reading Level
3.9
The Queen of England calls on her trusty spy, Mac B., once again. This time, Mac must navigate secret tunnels beneath the Berlin Wall to retrieve cheat codes from a Soviet scientist. Floppy disk in hand, our hero finds himself trapped in East Germany, stuck between the wall and the Stasi. How will he escape? Well, it is 1989, and walls do fall down.
Before he leaves for his mission, the Queen of England gives Mac a short lesson on the Cold War and the Iron Curtain. However, the information is surface level and doesn't show how the Berlin Wall affected the people of Germany. Even though Mac sneaks into East Germany, the story has little suspense, and the plot is not well developed.
The sixth installment of the Mac B. Series lacks the puns and wordplay that make the other books so much fun. Some of the story's humor comes from jokes about floppy disks; unfortunately, younger readers who have never seen a floppy disk may not find the floppy disk scenes funny.
Despite the lack of humor, readers will enjoy the large pink, gold, and black illustration that appear on every page. The short chapters—many are just one page—use simple vocabulary and lots of dialogue. Any words that may be confusing are defined within the text, making the story easy to read. Mac Saves the World will appeal to reluctant readers as it helps readers build confidence. Although Mac Saves the World can be read as a stand-alone book, for maximum enjoyment the books should be read in order.
The Queen of England, her corgi, and the KGB man all make an appearance in all the Mac B. books; these characters add plenty of silly moments that will leave readers giggling. While Mac B isn't successful in his mission, he doesn't lack courage. Throughout the story, Mac gives historical facts that sound outlandish, but he reminds readers, "But it's true. You can look it up." And if you look it up, you will find it is true. Readers who love humorous mysteries should also read the Investigators Series by John Patrick Green.
Sexual Content
Violence
East Germany and the Soviets wanted to keep people from leaving the country. "They rolled out barbed wire, right in the middle of the streets. People panicked! They crawled under the wire and tore their clothes and cut their skin! West Berliners held out blankets for East Berliners who jumped out of windows into West Berlin."
 Drugs and Alcohol
Language
Supernatural
Spiritual Content
---
"You did brilliantly! By failing at your mission, you may have saved the world," Queen of England. –Mac Saves the World