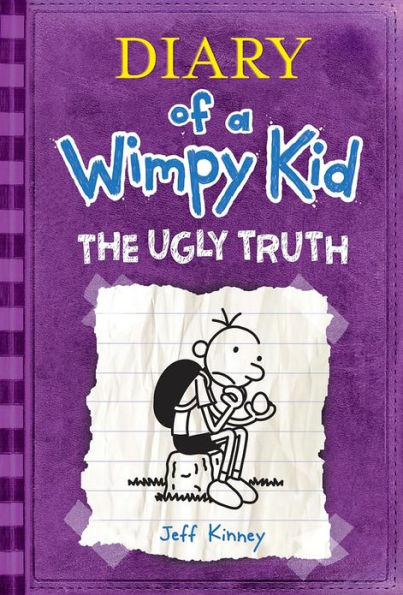 Buy This Book
Buy This Series
---
---
"I guess I'm just not in a big rush to grow up right now. And after Gammie showed me what's in store over the next few years, I think I'm gonna take her advice and hang on as long as I can," Greg Heffley. –Diary of a Wimpy Kid: The Ugly Truth
The Ugly Truth
Diary of a Wimpy Kid #5
by Jeff Kinney
AR Test
At A Glance
Interest Level

8+
Entertainment
Score
Reading Level
5.5
School's back in session for Greg Heffley, but this time without his best friend Rowley. After Diary of a Wimpy Kid: Dog Days where Greg and Rowley end their friendship, Greg is all alone to face the trials and tribulations of middle school. Everything around Greg changes when puberty starts to strike the middle school population and Greg's Mom returns to her schooling. He finds himself dealing with the pressures of boy-girl parties, increasing responsibilities, and the meaning of getting older all without his best friend. Will Greg survive until winter break or will he have to face the "ugly truth"?
The Ugly Truth's plot revolves around everything that happens in Greg's life and is written from his 12-year-old perspective. The story contains a lot of bathroom and childish humor. At one point in the story, Greg puts a whoopie cushion on his Grandma's chair. When she sits down on it, he can't stop laughing. After Greg hid rotten eggs in one of his uncle's pants, his uncle has to move out of the house. The humor is awfully crude and disrespectful at times, and throughout the story Greg is obsessed with trying to get a girlfriend.
Despite the book's bathroom humor, The Ugly Truth has some positive aspects. Jeff Kinney has a natural talent for using humor to entertain while teaching important life lessons. The Ugly Truth addresses the issue of puberty and the challenges puberty brings in a fun manner. Kinney makes it easy for readers to see that everyone goes through puberty, and it is not something to be ashamed of. Many of the characters even show off some of their changes, like Rowley's first zit.
The consistent funny black-and-white illustrations help bring Greg's struggles to life. However, parents should be aware of the book's drawings and jokes as Kinney often uses bathroom jokes such as Greg's friends going behind the curtain to make fart sounds at the lock-in. Many of the jokes are inappropriate for really young readers. The topic of sexual health and puberty's changes comes up often. In addition, parents will not want their children to emulate Greg's behavior because he demonstrates qualities such as laziness, selfishness, and narcissism. But at the end of the story, Greg shows a sign of maturity and decides to be a better friend to Rowley. He makes the first move in patching things up between them instead of waiting for Rowley to come crawling back to him.
Readers should read the books in sequential order in order to get the full effect of Greg's character and humor. Many of the events and jokes overlap from book to book. Despite the story's flaws, readers will relate to Greg as he goes through puberty. The Ugly Truth is a funny, enjoyable story that will entertain and teach practical lessons.
Sexual Content
Greg has a major crush on his dental hygienist, Rachel. Greg says, "Rachel always lectures me about brushing and flossing and all that, but she's so cute that it's hard to take her seriously."
Greg gets invited to Jordan Jury's big party along with Rowley and agrees, saying, "I can definitely pretend I'm friends with Rowley for one night if it means I get to play 'Spin the Bottle' with a bunch of girls who are a whole grade ahead of me."
Greg thinks about the pros and cons of going to Uncle Gary's wedding. He thinks about the bachelor party he might be invited to and says, "And as a bonus, at the wedding, I'll be paired with one of the bridesmaids. I'm just crossing my fingers that Sonja has some cute friends."
Greg's uncle is getting married for the third time.
Violence
After Greg's big brother, Rodrick, accidentally spits in his father's face, his father chases after him in the parking lot. Dad trips over the curb, twisting his ankle and having to go to the hospital.
Greg accidentally bites his new dentist.
Drugs and Alcohol
Language
Bathroom and immature humor are used frequently to entertain. Words like pee, bra, butt, and fart are used frequently.
This book is full of bathroom jokes. In one instance, Mom called a household meeting and says, "she was tired of having to clean the floor around the toilet because of our 'lousy aim.'" Greg continues to tell the story of how he got stuck to the bathroom floor after Manny used the bathroom.
Greg fakes his mother's instructions to his Grandpa when he is babysitting the three Heffley boys. The note tells Grandpa to spank Rodrick and has a picture of a naked butt.
Greg goes into a locked-in night at his school. Greg remembers, "Every once in a while, somebody would cut the cheese, and that made Mr. Palmero really mad because he couldn't figure out who was doing it."
Supernatural
Spiritual Content
by Matthew Perkey
---
"I guess I'm just not in a big rush to grow up right now. And after Gammie showed me what's in store over the next few years, I think I'm gonna take her advice and hang on as long as I can," Greg Heffley. –Diary of a Wimpy Kid: The Ugly Truth